Fly.com has announced a fare sale from Sacramento (SMF) to Amsterdam (AMS) and Paris (CDG) for $678-711. These fares are valid between October 27, 2013 – March 27, 2014.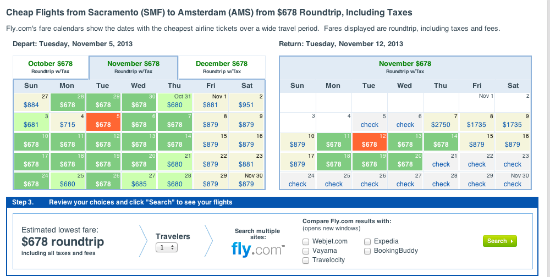 Fly.com has a price calendar, making it easy to search these fares. There is plenty of availability at the low level, especially throughout November. I searched a roundtrip from SMF – AMS on 11/5-11/12 and an economy fare on Lufthansa came to $681 with taxes. This saves at least $250 off similar fares to Amsterdam and Paris.
Fares out of Sacramento are significantly higher than other Bay Area airports. SMF is a much smaller airport than its Bay Area counterparts (i.e. SFO) and super easy to navigate. The fact that security is always a breeze, is a huge plus.
This is a decent fare sale if you regularly fly out of Sacramento and are looking for a cheap fare to Europe within the next six months.
Subscribe via email for more points, miles and free travel