Who says the points and miles game is on a downward spiral? Everyone, apparently, though now there's a reason to consider the glass half full: Evolve has just announced that starting in 2015, they will begin accepting Visa and Mastercard credit cards for payments. What's more, they will not be imposing a fee on these transactions. This is good news because up until this point, Evolve has only accepted debit cards along with Visa and Mastercard gift cards as payment methods. The change has already been partly implemented, with Discover cards being accepted as a payment method on the Evolve app. If you're unfamiliar with Evolve Money and want an overview of how it works, be sure to read about my experience using Evolve.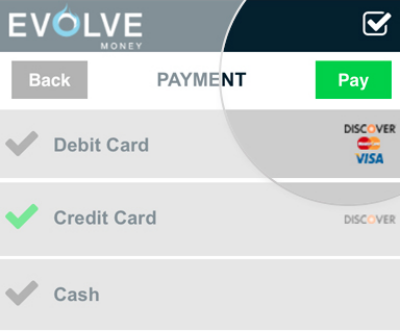 A while back, some people managed to use their credit cards for bill pay purposes, but Evolve caught on and it was shut down shortly after. It's nice that Evolve gave in to demand and will be accepting credit cards next year. Evolve has a long list of service providers you can pay, including a few store credit card accounts (Macy's, Disney, Neiman Marcus, etc.). So essentially, this new policy would allow you to double dip – use one point earning credit card to pay off another.
My only concern is whether any credit card companies will process these transactions as cash advances, in which case they would incur fees and earn zero miles. We'll cross that bridge when we get to it.
In addition to the changes in accepted payment methods, Evolve will also be waiving the $1.50 Express payment fee. This fee was applied to all same-day payment requests, but will be waived through December 31, 2014. Another positive change is that all payments will automatically be scheduled for the first available date. This is probably in response to some of the payment issues users experienced in the past. I personally stopped using Evolve when several payments failed and the insufficient notice I received meant I had to submit another payment, which inevitably arrived past the due date. Hopefully they've worked out these bugs and the system is easier to use. I'm certainly open to giving it another shot.
What are your thoughts on the improvements Evolve Money is making? Will you use it to pay your bills?
Subscribe via email for more points, miles and free travel