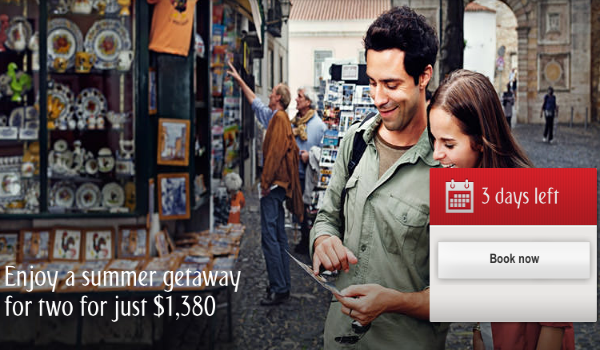 Emirates keeps hawking their New York – Milan (JFK – MXP) route, to our benefit, with low fares. Back in January it was $799 fares for two and now they're back with $1,380 roundtrip economy fares and $3,800 business class fares for two. At $690 per person in coach and $1900 per person in business class, it's not the Beijing mistake fare but can still be a good deal if you're considering heading to Europe to take advantage of the weakening currency.
Just like last time, these fares need to be booked in pairs to be valid. You have until 11:59 PM (ET) on March 26 to book these fares, which are valid through November 30, 2015. There are a few notable restrictions:
Valid on Emirates flights EK206 and EK205 only.

Minimum stay: three (3) days or first Sunday.

Maximum stay: three (3) months.

Commencement of outbound travel from New York (JFK) to Milan (MXP) shall be between June 7 and August 22, 2015.

Travel must be completed on or before November 30, 2015.

Blackout dates: inbound blackout dates are between June 27 and July 19, 2015.

Advance Purchase required: four (4) days.
Yes, I copied/pasted these straight from the promo page. 😉 Be sure to check it for additional restrictions.
Notice how I said these fares "might be" a good deal? That depends on how you're earning miles and which fare you choose.
Emirates $1380 Economy Fare for Two
124,200 Arrival miles for two/$62,100 in spending on the Barclay Arrival Plus World Mastercard
Redeeming Arrival miles for the $1,380 economy fare would require 124,200 Arrival miles after the 10% discount. This amounts to $31,050 in manufactured spending per person. Considering an Alaska Mileage Plan award for the same flight requires 95,000 miles roundtrip, the Emirates/Arrival redemption is a bargain. That's because you'd need to spend $95,000 on the Alaska Airlines credit card or $75,000 on the Starwood Preferred Guest American Express card – for one ticket! 
If you plan on completing your travel by May 15 or departing after October 15, there's also the option of booking an American Airlines off-peak award, which requires 40,000 miles per person roundtrip for an American Airlines flight between JFK – MXP. With the 10% discount from the Citi AAdvantage Platinum Select Mastercard (and the Barclay Aviator Red card, when that debuts), this drops to 36,000 miles. You'll need to transfer just 31,000 SPG points to generate 36,000 AAdvantage miles. Yes, it would be slightly cheaper than redeeming Arrival Miles for the Emirates fare, but I wouldn't recommend it unless you're going to transfer SPG points in 20,000 increments to trigger the 5,000 point bonus.
Emirates $3,800 Business Class Fare for Two
342,000 Arrival miles for two/$171,000 in spending on the Barclay Arrival Plus World Elite MasterCard
If you were to redeem Arrival Miles from the Barclay Arrival Plus World Elite Mastercard, you would need 342,000 miles (after the 10% travel redemption discount) for two tickets. This amounts to $171,000 in manufactured spending for two. At $85,500 per person, this is much less than the $100,000 you'd have to put on the Citi AAdvantage Platinum card to earn enough for a business class flight. Factor in the 10% rebate cardholders get and this drops to 90,000 miles, but it's still higher than an Arrival Miles redemption. 
If you're earning your miles through SPG transfers, you would need to spend just $80,000 on the Starwood Preferred Guest American Express card. If you're going with the latter option, it obviously works out cheaper than this discounted fare offered by Emirates.
If you have your heart set on flying Emirates business class between JFK – MXP, then it's worth knowing that these fares normally require 150,000 Alaska miles roundtrip per person. Again, that's $150,000 in spend on the Alaska card or $120,000 on an SPG Amex card per person. In this case, booking the $3,800 Emirates business class fare for two and redeeming $171,000 Arrival miles is much cheaper.
Another thing to factor into all of this is award availability and award booking taxes/fees. American Airlines can be stingy with award space, so in addition to being the cheaper options, these discounted Emirates fares are also much more convenient. You won't be earning any miles on these paid fares, but it still works out being cheaper in most cases than an award redemption. 
Are you going to book Emirates' discounted fares between New York and Milan?
Subscribe via email for more points, miles and free travel