Through December 19, Emirates is offering "special family fares" for travel to Dubai. Through this promotion, groups of 2-5 travelers can save significantly on economy and business class fares. The fare discount increases with the number of passengers and can actually be a pretty good deal for those who have extra Barclay Arrival Miles sitting around.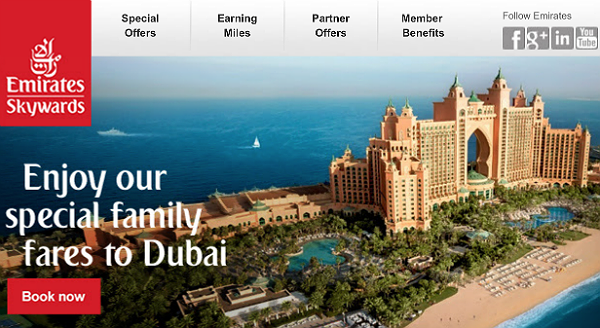 Below is a list of roundtrip fares (including taxes):
Economy Class                                               Business Class
Two fly for $1,299 ($649 per person)               Two fly for $9,999 ($4,999.50 per person)
Three fly for $1,889 ($629.67 per person)      Three fly for $12,999 ($4,333 per person)
Four fly for $2,439 ($609.75 per person)       Four fly for $15,599 ($3,899.75 per person)
Five fly for $2,929 ($585.80 per person)        Five fly for $17,799 ($3,559.80 per person)
These fares are available for travel from the following cities:
Boston (BOS)

Chicago (ORD)

Dallas Ft. Worth (DFW)

Houston (IAH)

Los Angeles

New York (JFK)

Orlando (MCO)

Seattle (SEA)

San Francisco (SFO)

Washington DC (IAD)
I did a quick calendar search on Google Flights and the economy fares are really good deals, especially if you're departing from the West Coast. Even the Emirates East Coast fares are cheaper than (or in some cases on par with) paid fares on other airlines.
The special family fares are valid on travel between January 9 – November 30, 2016, though there are blackout dates, and restrictions around when inbound and outbound travel must be completed:
Outbound Travel Period: January 9, 2016 – June 17, 2016, July 17, 2016 – November 30, 2016.

Inbound Blackout dates: August 8, 2016 through September 05, 2016

Travel to be completed by December 10, 2016.

Minimum stay: Three (3) days or first Sunday.

Maximum stay: Three (3) months.
Redeeming Arrival Miles vs. Frequent Flyer Miles
As I mentioned earlier, these Emirate Family Fares can be an especially great option for redeeming Arrival Miles. For example, a roundtrip economy class ticket to Dubai would normally require 80,000 – 100,000 miles roundtrip with the major U.S. based frequent flyer programs. If you were to earn these miles through credit card spending, that's $80,000 – $100,000 worth of gift card churning, which isn't easy these days. On the other hand, with the Emirates Family Fare promotion, you can redeem between 55,651 – 61,655 Arrival miles per person (more, if you book your ticket after the upcoming AAdvantage devaluation). That's around $27,825 – $30,832 worth of spending on the Barclay Arrival Plus World Elite Mastercard – which is more than half the amount of spend required!
When it comes to Emirates' Business Class fares, it gets a little trickier. An award business class ticket to the Middle East will require around 120,000 – 160,000 frequent flyer miles. Meanwhile, you could redeem between 338,181 – 474,952 Arrival miles (or $169,090.50 – $237,376). In this case, you'd have to spent significantly more on the Barclay Arrival Plus World Elite MasterCard to cover a paid business class fare than you'd put on an airline rewards credit card.
There's also the fact that a Google Flights search turned up business class fares to Dubai (out of both the East and West Coast) that were sometimes cheaper than the Family Fare deal – and are valid on single tickets. For example, in February 2016 you can fly from San Francisco to Dubai on United and Lufthansa for $3,246 per person in business class. East Coast fares are even cheaper, with JFK – DXB fares on Finnair and Air France selling for around $3,000 roundtrip. There are even fares as low as $2,500 on random foreign carriers, but you get what you pay for (aka no flatbed seats…or angled, for that matter).
For those who've been planning a family trip to Dubai, the Emirates Family Fares promotion might actually offer a good deal. You might even find value in the hotel, restaurant, spa, and entertainment discounts being offered as part of this promotion, including 25% off at the Atlantis Resort. Now do you get my obsession with Barclay Arrival Miles?
Subscribe to Blog via Email