A few months ago MyPoints was running an amazing promotion, offering 150 MyPoints per $1 at OpenSky. The points could be used to redeem giftcards from hundreds of mainstream merchants, with the most appealing redemptions being Hyatt giftcards and United Mileage Plus miles. The promotion was so lucrative, you actually came out ahead. The offer has since been replaced with a less generous 50 MyPoints per $1, but there is a little-known way to build up your MyPoints balance free of charge: BzzAgent.com.
BzzAgent is a word-of-mouth marketing company that seeks product testers to not only review products, but share them with friends and family and report back on these experiences. It's free to join and campaigns are plentiful, so after filling out your profile you should have no trouble getting invitations to join campaigns.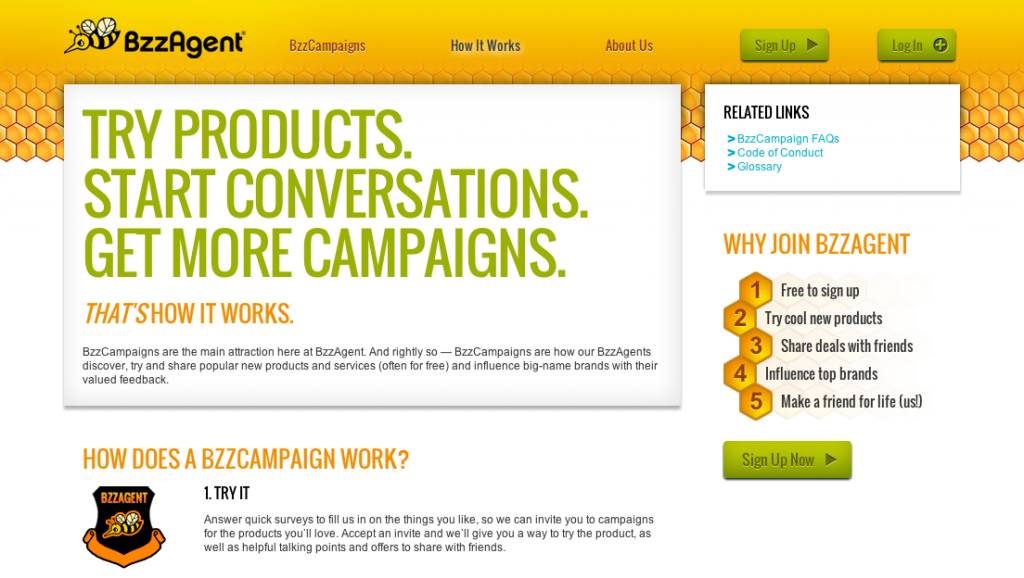 Every time you submit a product review or report detailing your campaign activities, you earn 50 MyPoints. Sending out Tweets earns 15 points. Once your reports are approved, you need to head over the the "My Account" section of BzzAgent and accept the points. They will usually become available within 30 days, though MyPoints will show them as "pending" right away.
MyPoints runs various other promotions, allowing you to rack up points. Earlier this year you could earn 2,000 points for signing up for a free Netflix trial. You can currently earn 3,000 points for signing up for a Blockbuster Total Access subscription. MyPoints regularly offers 600 points for purchasing $75 Staples giftcards. You may be able to use these giftcards to purchase other, more valuable giftcards. 
All in all, BzzAgent presents a great opportunity to rack up MyPoints and redeem them for valuable travel certificates.
BONUS: If you sign up for MyPoints using a member's referral, you both earn 750 points after your first purchase of $20 or more. Please comment below if you need a referral, or if you would like to refer others to the program.
Subscribe via email for more points, miles and free travel