FrequentMiler has a great post on how to earn 5 points per $1 on everything by purchasing Vanilla Reload cards and then loading them onto a prepaid card. Recently, MillionMileSecrets featured a post on how to earn miles on money orders. Being the point fanatic that I am, I immediately recognized a way to combine the methods in both posts and earn 1 extra point per $1 on all purchases. It takes just 2 easy steps:
1. Earn miles with your credit cards for everyday spending. Charge all of your spending to your mile and point-earning credit cards: household bills, dining, shopping, Vanilla Reload cards, etc.
2. Get a Suntrust Skymiles Check Card. Use your check card to buy a money order for just $0.70, made out to your credit card company. Keep in mind that money orders can only be purchased as PIN-based transactions. 
You've just earned an extra point on all of your spending!
Extra Credit (for those willing to go the extra mile)
1. Get an American Express Prepaid card. This is a re-loadable card with no recurring fees.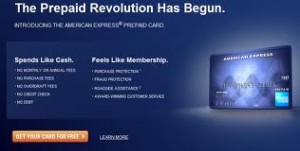 2. Use your Ink Classic, Ink Bold, or Ink Plus credit card to buy Vanilla Reload cards at Office Depot. You will earn 5 points per $1, since the Ink Classic, Ink Bold, and Ink Plus Business Cards all award 5 points per $1 at office supply stores. Vanilla Reload cards carry a fee of $3.95 per card and can be purchased in increments of up to $500. I recommend buying these in $500 increments to maximize the value for the fee you're paying. 
3. Load your Vanilla balance onto your American Express Prepaid Card at MyVanilla.com. This is a quick process and your funds are available immediately.
4. Use your American Express prepaid cards on everyday spending. It's like you're earning 5 points per $1 on all your purchases!
5. Pay it off. Now that you've racked up quite a balance on your Ink card, use your Suntrust Skymiles Check Card to buy a money order and pay off your credit card. 
Use the Skymiles Check Card/money order combo to pay your credit card bills as well as your mortgage, rent, and other things that can't be charged to a credit card. But keep rule #3 in mind, or this option will get shut down fast.
Disclosure: I do not earn a referral for any of the credit card links in this post.
Subscribe via email for more points, miles and free travel