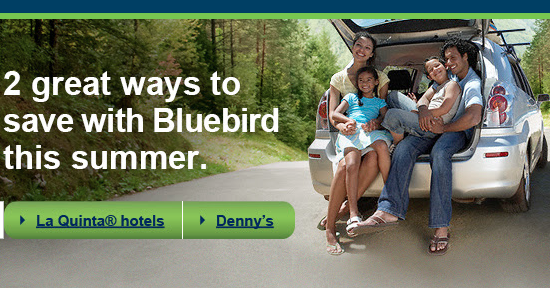 American Express is pretty good about offering cardholders discounts and freebies, and now they've extended some of those perks to Bluebird cardholders. I got an email from Bluebird, offering me 10% off La Quinta hotel stays and 15% off at Denny's if I charge those expenses to my Bluebird card. 
They must be really sick of travel hackers like us using their bill pay feature, but trying to reel me in with discounts at La Quinta and Denny's? I've walked into a Denny's restaurant exactly twice in my life and walked straight back out because of the stench. Not to be a snob or anything – I eat at fast food restaurants that are far more terrible than Denny's, but at least I have the barrier of the drive through to shield me from the ugliness.
The La Quinta deal is good for travel through October 31, 2014. Bookings must be made using promo code AMX10 and charged to your Bluebird card.  The 15% discount at Denny's requires a coupon, which the email I received links to. I'm assuming this is a targeted email so if you want to take advantage of it, check your email for a message from Bluebird. The Denny's coupon is good through September 30, 2014.
If American Express wants us to start using our Bluebird cards regularly, they need to step up their game. They've probably done their research and decided La Quinta and Denny's cater to the same demographic as Walmart does. That certainly makes sense. However, those same people are probably regularly using their Bluebird cards. So really, it's us, the travel hackers, they should be wooing with discounts and promotions.
Plus, a 10% discount at La Quinta is nothing you can't scrounge up through an online shopping mall and I'm sure there are better discounts for Denny's in my local Clip 'N Save. Hopefully this is just the first in a long line of promotions offered to Bluebird cardholders. Personally, I'd love to see some kind of discount on Walmart purchases, for obvious reasons.
Subscribe via email for more points, miles and free travel