At the end of each year, I like to de-clutter and get rid of as much stuff as possible – that includes credit cards. I've added quite a few cards to my wallet this year, thanks to some generous promotions. The credit card stack has been getting pretty tall lately, to the point where it's tipping over. With a few annual fees coming up in March, it's time to put some of these credit cards on the chopping block. Here's a lineup of cards I'm getting rid of and why: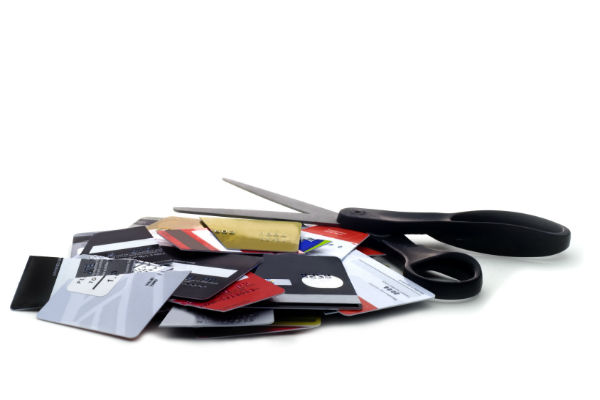 Citi Executive AAdvantage Card. It hasn't quite been a year since I picked up the 100,000 mile Citi Executive AAdvantage cards, but it's time to cut them both lose. The Admiral's Club membership isn't worth the $450 annual fee, so there's really no good reason to keep them. The sign-up bonus was great and meeting over $60,000 in spending requirements (for myself and a few family members) was fun.
Citi AAdvantage Platinum Card. The annual fee on this card is $6 higher than the Barclay US Airways Dividend Miles Mastercard, which will soon be converting to an AAdvantage branded card). Since the Citi and Barclay AAdvantage cards are identical otherwise, the Citi card goes. Plus, I've had way too many fraud incidents with Citi lately – some of which went undetected. My brother and I have both had our card numbers stolen, followed by purchases at Walmart stores and gas stations out of state. Considering both of us had our cards in our respective wallets each time this happened, it's baffling that it keeps happening and Citi isn't doing much to prevent it. They've taken care of it each time, but I don't want to worry about security issues when it comes to cards I want to keep long term. The only reason I'm holding onto the Barclay AAdvantage branded card is because of the 10% rebate on award redemptions – otherwise, I would just earn my AAdvantage miles through the SPG Amex Business card.
Starwood Preferred Guest American Express. While the American Express sync offers have been generous lately, I really don't need both the personal and business version of the Starwood Preferred Guest American Express card. The Business version came in handy recently during the Hyatt gift card sale, when it got me an additional 5% discount. While I charge paid hotel rates to my Barclay Arrival Plus card, I like the option of getting a 5% discount through the SPG Business card if I decide at some point to get ride of the Arrival Plus card. Since I cancelled the Amex Platinum card earlier this year and need an Amex card in my wallet, the SPG Business card fits the bill. The $65 annual fee is reasonable and entitles me to discounts that make it worth keeping.
Bank of America Alaska Airlines Visa Signature Card. Even though the 50,000 mile sign-up bonus on this card required a lot of spend, I got the card for my dad and brother and met the combined $20,000 spending requirement. Now that it's done, there's no need to pay the $75 annual fee again. Even if they end up waiving it, I'm trying to cut down on long-term credit cards and this one has to go. Instead, we'll transfer Starpoints to Alaska Mileage Plan if necessary. The annual $99 companion ticket won't be missed, since I'll downgrade my card to the Platinum Plus version, allowing me to keep this benefit with a lower $50 annual fee. 
Chase Sapphire Preferred. There was a time when the idea of axing this card was absurd. It pains me to say this, but no matter how pretty the Sapphire Preferred card is, it has to go. It served its purpose back in the day, but with Chase eliminating the annual 7% dividend (current cardholders keep the benefit through the end of 2015), I don't see a need for it. I get way more value out of my Ink Plus card and while I may be giving up 2 points per $1 on travel, I find myself charging those expenses to my Barclay Arrival Plus card these days anyway, since it allows me to redeem miles for those expenses. 
This decision comes down to the reduction of my manufactured spending activities. A year ago, I was pulling in nearly $40,000 per month and spreading it across different credit cards. Now that my manufactured spending has decreased significantly, I can't justify having so many credit cards. So the Sapphire Preferred, with its reduced benefits and devalued partnerships (I'm looking at you, United and Hyatt), has to go. If I ever miss that heavy steel that used to weigh down my wallet, I can always add myself as an authorized user on a family member's account without having to pay the $95 annual fee. All of us share our miles anyway, so it ultimately doesn't matter who's earning them on which account. 
Virgin Atlantic Mastercard. I picked up my second Virgin Atlantic Mastercard two months ago, so maybe it isn't fair to put it on the chopping block, but I can't imagine needing it past the 90,000 mile sign-up bonus. Since I don't have a Hilton card right now and Virgin Atlantic miles transfer to Hilton HHonors at a 1:1.5 ratio, I may keep it for that reason. Plus, there are some decent redemption rates for short haul awards that may come in handy down the line. Once I'm done wrapping up the $12,000 spending requirement, I'll swap it out for an Amex Surpass card for the Gold status without having to get another Citi card. 
Credit cards that will definitely be staying in my wallet include the Barclay Arrival Plus card for its versatility and the fact that I can always off-set the annual fee with miles, the Ink Plus for its category bonuses and discounts through Visa Savings, my new Club Carlson Visa, and the Starwood Preferred Guest American Express Business card. These are cards that I'll keep in the long run. Even the Barclay AAdvantage card may be back on the chopping block next year, but for now 4-5 cards are all I need.
Are you canceling any credit cards this year? I'd love to get your feedback in the comment section.
Subscribe via email for more points, miles and free travel