Club Carlson has just announced their latest Points or Nights Promotion. As the title suggests, members can choose whether they earn double points or double elite qualifying nights on stays between November 4 – December 30, 2014. Keep in mind that once you've registered for the promotion of your choice, you cannot change it later. Unfortunately, Points + Cash stays are not eligible for bonuses and you must provide your Club Carlson number at booking or check-in. So which promotion should you go with? As usual, that depends on your needs.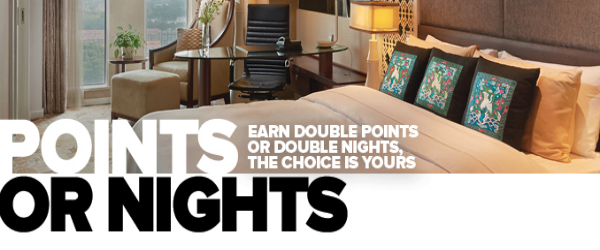 Double Points
The Double Points option is ideal if you just want to earn free nights and won't be completing enough stays to earn elite status. Club Carlson has a very generous earning structure, offering 20 Gold points per $1 to standard Red members. The promotion will double this to 40 Gold points per $1, so that it takes just $225 in spending to earn a free night at a Category 1 hotel. This doesn't even take into account any elite bonuses you may be eligible for. Club Carlson Silver members earn 15% bonus points, Gold members get 35% and top-tier Concierge members get a 75% bonus on their point earnings. Keep in mind that only base earnings (i.e. 20 points per $1) qualify for elite bonuses, so the payout for elite members under this promotion would be as follows:
Club Carlson Red Members 20 points per $1 base + 20 bonus points per $1 = 40 points

Club Carlson Silver Members 23 points per $1 base + 20 bonus points per $1 = 43 points

Club Carlson Gold Members 27 points per $1 base + 20 bonus points per $1 = 47 points

Club Carlson Concierge Members 35 points per $1 base + 20 bonus points per $1 = 53 points
Factor in the extra 10 points per $1 from the Club Carlson Premier Visa Signature card (which, incidentally, comes with Gold status), and you're looking at substantial point payout.
Double Nights
The Double Nights option is worth pursuing for those who have enough upcoming stays to earn elite status. Silver is pretty useless with it's 15% point bonus and not much else. Gold status can be obtained from the Club Carlson Premier Visa Signature or via a status match. The only scenario where Double Nights would come in handy is if you're looking for a fast track to top-tier Concierge status and will benefit from it enough to off-set the free nights you could be earning instead. 
Club Carlson requires 35 nights/20 stays for Gold status and 75 nights/30 stays for Concierge. Keep in mind the promotion only applies to nights, not stays. During the promotion, you can earn Concierge status for completing 38 nights – almost the same number of nights as is typically required for Gold, without having to hotel hop. Doing it this way will still require more nights and cash than qualifying through stays – and since you are giving up a double points bonus, it's not as lucrative.
The best option is to choose Double Points for the lucrative bonus point payout and then hotel hop in order to earn elite credits based on stays, rather than nights. You'll earn status faster and you won't miss out on the lucrative point bonuses. Aside from the inconvenience of hotel hopping, it gets you the best of both worlds.   
Subscribe via email for more points, miles and free travel