Update: As of August 28, 2015 Ebates is no longer offering cash back on Amex gift cards.
As you may know by now, both Top Cash Back and BeFrugal have imposed a limit on Amex gift card denominations eligible for cash back. Going forward, gift cards over $200 will no longer earn cash back. However, as of this writing Extrabux and Ebates are one of the few portals that have not yet imposed this limit, though their cash back rates are lower at 1%. So does it make sense to keep churning Amex gift cards at 1% cash back, or is it better to switch to buying Visa gift cards with a Chase Ink card at office supply stores?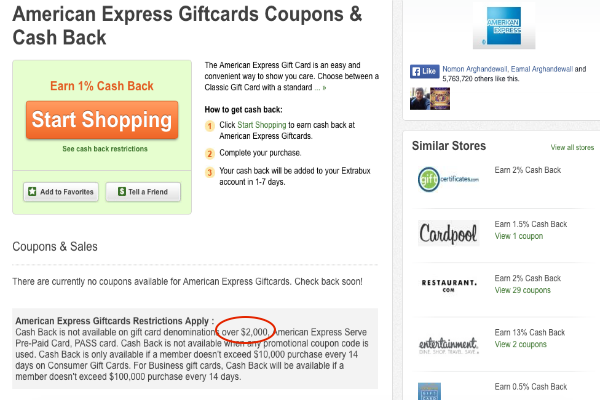 A $10,000 Amex gift card order consisting of five cards purchased in $2,000 denominations (the maximum allowed every two weeks), would earn a minimum of 10,000 miles plus $100 cash back, and incur fees totaling between $104.70 – $147.70:
$19.75 American Express gift card fees

$5.95 – $8.95 shipping costs

$79 – $119 Visa gift card fees (at $3.95 – $5.95 per card)
The total out of pocket cost comes to under $50 per $10,000 order. Meanwhile, earning 10,000 miles through Visa gift cards purchased at office supply stores would cost $69.50. At this rate, it's cheaper to keep churning Amex gift cards than buying $200 Visa gift cards with a Chase Ink card. That is, if Extrabux and Ebates continue to offer cash back on Amex gift cards in denominations over $200. 
I've used both Extrabux and Ebates for purchases without problems. You should still take step-by-step screenshots of your transactions in case they aren't tracked. The last thing you want to do is pay over $100 in gift card fees and not receive a portal payout to cover it.
Gift card churning is becoming more difficult. I'm sure eventually all shopping portals will either adopt TCB and BeFrugal's policies or do away with offering cash back on Amex gift cards altogether. If that happens, I'll focus my efforts on buying gift cards during special promotions. These promotions not only offer a way to off-set gift card fees, but an opportunity to maximize credit card category bonuses. In the mean time, I'm sticking to my bi-weekly Amex gift card churning schedule.
Disclosure: I've included my Extrabux and Ebates affiliate links in this post. Thanks in advance to anyone who decides to use them!
Subscribe to Blog via Email