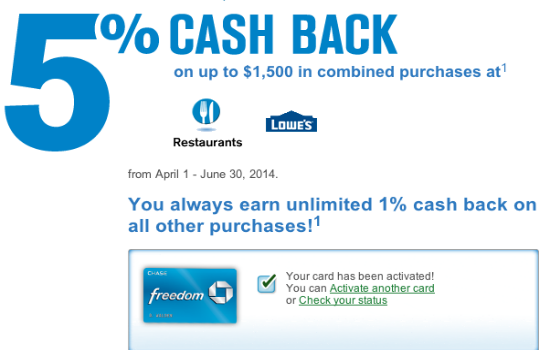 Chase Freedom cardholders have something to look forward to this April, with 5 points/5% cash back at Lowe's and restaurants. The payout is limited to the first $1,500 spend, but if you were to max it out each quarter, you're looking at 30,000 points/$300 cash back. You can activate the bonus now and reap the rewards come April.
I don't know about you, but I did quite well with last quarter's gas station category bonus. This quarter's bonus is perfect since my family is undertaking a home improvement project. I was going to use the Ink Bold to buy Lowe's/Home Depot gift cards for a 5 point payout, but since the Freedom card is offering the same 5 point/5% cash back payout at Lowe's this quarter, that makes it so much easier.
The restaurant bonus is also a nice addition, putting the Sapphire card's First Friday bonus to shame. Ironically enough, since I started working from home, I've been dining out more, so I'm looking forward to earning more than 2-3 points in that category.
What do you think of the Freedom's most recent category bonus? Will you be maxing it out next quarter?
Subscribe via email for more points, miles and free travel