One of the best credit card benefits out there has to be the Club Carlson Visa's Bonus Award Night. Cardholders who book at least two award nights per stay get the last night free. Many folks made great use of this benefit by booking stays in two night increments – essentially doubling the value of their Club Carlson Gold Points. Unfortunately, that benefit is going away on June 1, 2015.
Instead of the Bonus Award Night, Club Carlson Visa credit cardholders will receive a free night certificate good at any Club Carlson hotel in the U.S. when they spend $10,000 annually. In the email I received from Club Carlson announcing this change, I was also offered 30,000 bonus Gold Points for charging my next Club Carlson stay to the Club Carlson credit card by August 31, 2015. This is enough to cover a free night at a Category 3 Club Carlson hotel – definitely a mattress run worthy offer.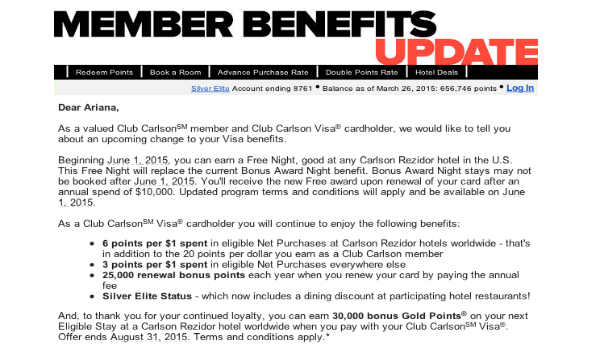 Those of you who followed my series on the best Club Carlson hotels know what a major downgrade the annual free night certificate is because Club Carlson hotels in the U.S. are generally pretty terrible. With the exception of a few top-tier hotels in major cities (i.e. New York, Chicago), there aren't many hotels where this annual free night certificate would be put to good use. It would have been less of a blow if they didn't restrict free night redemptions to U.S. hotels only. That being said, it makes sense that U.S. Bank/Club Carlson would do away with the Bonus Award Night benefit, since I'm sure people were milking it. 
This credit card downgrade would be slightly less terrible if the free night certificate was valid at Club Carlson hotels outside of the U.S. or if cardholders were given points instead. Club Carlson credit cardholders already earn a renewal bonus of 25,000 – 40,000 points every year, which I prefer over a restricted free night. I know I'll be spending more than $10,000 on the card annually and the free night will likely go unused. Hopefully it's transferrable, in which case I might give it away on the blog.
While the value of the Club Carlson credit cards has been diminished slightly, I still think Club Carlson is one of the most generous programs when it comes to earning free nights. Non-elite members earn 20 points per $1 on hotel stays and credit cardholders get an extra 6 – 10 points for charging their stays to the card. While other hotels are boring us with substandard offers, Club Carlson has consistently offered superior promotions on paid stays and massive mobile booking bonuses. Overall, this is an unfortunate downgrade for the Club Carlson Visa credit cards, but the program is still one of the most rewarding out there. This is just another case of a good thing coming to an end.
Subscribe via email for more points, miles and free travel