It's very easy (and tempting) to overspend when you're earning points for every $1 on your credit card. I've always been very responsible in regards to my finances: When I was younger my older sister would come to me to borrow cash after blowing her allowance almost immediately.
However, when I was in college and I got my American Express Blue Cash Back card, I justified every purchase with "It's ok, I'm getting 1% cash back!" Aside from the idiocy of choosing a cash-back card over a point-earning card, this is a terrible example of credit card use. I've since wisened up and am much more responsible about my credit card spending. In fact, points and miles have made it easier for me to stick to a budget and earn more points doing so.
As an example, I have a liquid crack habit. I drink a Venti White Mocha Frappuccino every morning. The 6'2, 200-lb Starbucks Barrista looks at me in awe and disgust every time he takes my order. I have a Starbucks gold card that earns me a free drink every 12 purchases. When I reload my card in store, I get a respectable 2 points per $1 on my Chase Sapphire Preferred. Unfortunately, this habit of reloading constantly was making me lose track of my spending, and impossible to stick to a budget. Solution: Buy Starbucks giftcards at Staples once a month, using my Chase Ink Bold, earn 5 points per $1, and stick to the designated amount. Outcome: I earn more points, I keep my addiction in check, and my budget on track.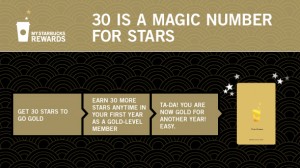 I've also planned out my budget for the rest of the year and purchased Vanilla Reload cards in the appropriate amount. The cards have been loaded onto my American Express Prepaid, guaranteeing me 5 points per $1 on all purchases. I've been so good with my spending, I will likely have a surplus in January. If only we could convince the federal government to start buying into prepaid gift cards…
My brother is a college student who has his own slew of expenses he charges on his credit card.  He has a Citi AAdvantage Platinum card, which earns him a measly 1 point per $1 on all purchases. I thought about making him an authorized user on the Chase Sapphire Preferred, since most of his expenses tend to be food centric. Instead, I've decided on buying him Visa giftcards. He earns (me) more points and is aware of what he's spending. I've decide to start doing the same for my 15 year-old sister, who seems to be single-handedly keeping the Holister brand in business. This will take the sting out of her shopping trips and give her more control over her spending. 
The next step is to do the same for my parents. If everyone goes along with it, we're on track to earning 5.5 points per $1 on most of our purchases, and keeping our spending under control. Why 5.5 points? Because I intend to pay off my credit cards with money orders, which earns me 0.5 points per $1 with the Alaska Airlines Debit card.
Of course, there are expenses that we'll continue to charge to credit cards to avoid getting the Ink Bold account shut down. I think my strategy will be to put common expenses on the giftcards (i.e. groceries, bills, every day spending), while purchases made through shopping portals and occasionally large purchases (i.e. travel, family dinners, a new tv, etc.) will go on the appropriate cards. This way we'll remain profitable for the credit card companies. 
Can anyone think of a better strategy to stay in good standing with credit card companies? If you're currently using the Ink Bold and gift cards to keep your spending on track, I'd love to know how it's working for you.
Subscribe via email for more points, miles and free travel