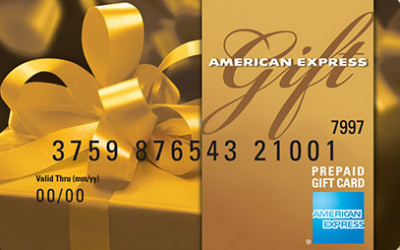 The only thing better than earning lots of points is earning cash on the side. Both Big Crumbs and TopCashBack are offering $0 fee and up to 3% cash back on American Express gift cards. Big Crumbs is offering 2.1%, while TopCashBack is offering 3%. TCB is running it's promotion through February 15. This is a great way to generate both points and cash, since you're earning a profit in most cases. Just remember to use the discount codes on each portal's page in order to get your card fees waived.
Barclay's RewardsBoost shopping portal is also offering a decent deal at 4 points per $1. Considering this is the equivalent of 6.6% in travel credits for those with a Barclaycard Arrival Card, it's not a bad deal. This offer doesn't include the no-fee coupon, so keep that in mind when deciding which portal to use. Some folks on Flyertalk have reported the codes on the TCB and BC sites work on the RewardsBoost portal, but do this at your own discretion.
Purchase
Personal gift cards can be purchased in increments of upwards of $3,000, with a $3.95 fee per card. In this case the fees are waived, so all you're paying is the $8.95 shipping fee. Here is how the purchase process works:
Log on to your preferred shopping portal (Big Crumbs, TopCashBack, or Barclay RewardsBoost)

Search for "American Express Gift Cards"

Click through to the Amex gift card site (on TopCashBack, click on "Get Code & Cash Back")

Select "Consumer gift cards" and "Select a card design"

Select the card amount and quantity (i.e. one for $3,000 and one for $2,000), "add another" and proceed to checkout.

If she $3.95 doesn't appear  to be waived at check-out, enter the coupon code provided on the portal page.
Be sure to take screenshots in case your cash back isn't credited. Big Crumbs is usually pretty good about tracking these transactions, though some folks have complained about TopCashBack in the past.
Cashing Out
American Express gift cards can't be cashed out via ATM or Bluebird like Visa/Mastercard gift cards. However, you still have a few other options:
Amazon Payments (up to $1,000 per month) – send the money to someone you trust will give it back to you.

Vanilla Reloads – Use the Amex gift card to buy Vanilla Reloads at CVS, gas stations, or grocery stores. You will pay $7.90 in fees per $1,000 (or $39.50 per $5,000), but taking the 2.1-3% cash back into account, you are still coming out ahead.
Profits
Taking into account the $3.95 card fee (waived on the TCB and Big Crumbs purchases), here are the profits you can expect on the maximum $5,000 gift card purchase:
TopCashBack (3% cash back per $5,000): $141.05
Big Crumbs (2.1% cash back per $5,000): $96.05
Barclay RewardsBoost (4 points per $1 per $5,000): 20,000 points/$200 credit credits (excluding 10% point rebate) at a cost of $16.85
Warnings
1. Limits. Keep in mind that Big Crumbs limits cash back for personal cards to $5,000 spent per day. Limits on business gift cards are at $75,000 per day. If you purchase gift cards that exceed these amounts, Big Crumbs will not offer you cash back. The only limit imposed by TopCashBack is "10 transactions" per day. Some folks have complained about TopCashBack not tracking purchases in the past. I have never personally experienced this issue, but it seems to be pretty widespread. Be sure to take screenshots so you can have prove in case the cash back doesn't post.
2. Cancellations. There are also complaints on Flyertalk about transactions being cancelled. In the past, I have stuck to $4,000 per day and that has worked well, though I have received calls from Amex confirming my purchase. As of now, my transaction has not been cancelled, nor have I received a phone call.
3. Moderation. The most important thing is not to overdo it. I'd stick to purchasing under $5,000 per day and if you're going to repeat this, use a different card.
4. Cash advance fees. Some credit card companies code American Express gift card purchases as cash advances. This means you'll not only incur fees, but you will not earn points. Check this Flyertalk thread for a list of cards that were recently coded as purchases. The main culprit when it comes to coding these purchases as cash advances seems to be Citi, which is too bad considering most of us have to meet that $10,000 spending requirement on the Citi Executive AAdvantage card.
In any case, this is a pretty great way to generate points if you do it responsibly.
Have you purchased any Amex gift cards through these portals? What has your experience been so far?
Disclosure: The links in this post for TopCashBack, Big Crumbs, and the Barclay Arrival card are my affiliate links, for which I will earn a referral. Regardless of whether you use my links or not, I appreciate your support.
Subscribe via email for more points, miles and free travel