By now, you're all well aware that TopCashBack and Big Crumbs have resumed offering cash back American Express gift cards. Not satisfied with paying out the same 1.5% cash back payout as TCB, Big Crumbs has announced that they will be increasing the cash back amount on American Express gift cards. No word yet on how much higher it will be, but we'll find out on Monday, October 20. 
According to the email that was sent out (I didn't get one), this higher cash back promotion will only run for 24 hours. My guess is it will be 2% cash back, which is high enough to one-up TCB without causing a site crash. Hopefully this erupts into an all-out shopping portal war and TCB increases their payouts as well.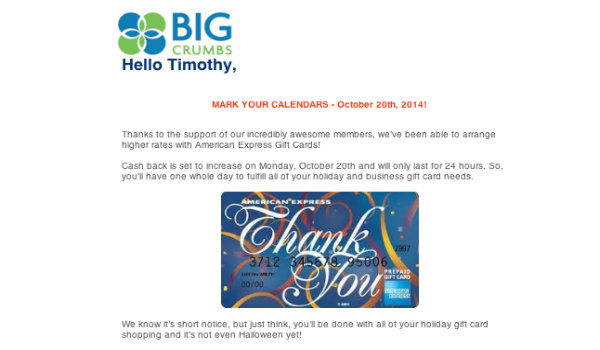 This is good timing for those of you who picked up a 70,000 point Ink Plus card, as it provides the opportunity to knock out most of the $5,000 spending requirement in one purchase. American Express gift card purchases are limited to $5,000 every two weeks, though in my experience, orders that high tend to get cancelled. I limit mine to $4,000 at a time and they tend to get processed just fine.
If you're wondering what to do with an American Express gift card (note: they aren't PIN-enabled), there are a couple of options:
Use them to load American Express for Target cards, then cash your AFT card out via ATM withdrawals.
Use them to purchase PIN-enabled Visa gift cards, then unload the Visa gift cards via Bluebird.
This last option may be a money loser, depending on how much cash back Big Crumbs is offering. You could use Google Wallet to unload the Amex gift card balance, sending it to a trusted friend or family member. Google Wallet does charge almost 3% in transaction fees, so the only time you should consider this is if the other two options aren't available to you. I also wouldn't recommend it unless you're breaking even.
If you're not currently a Big Crumbs member, here's a shameless plug for my referral link. If you use it to sign up and make purchases, I get a commission from Big Crumbs. 
Are you looking forward to Big Crumbs' increased payout on Amex gift cards? What do you think the higher cash back amount will be? 
HT: Tim Pressman for sending me a copy of the Big Crumbs email announcement.
Subscribe via email for more points, miles and free travel