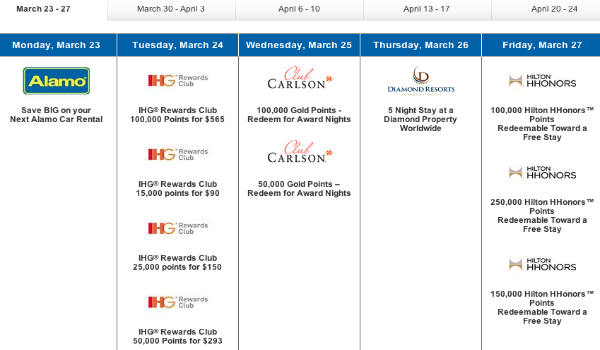 The U.S. Travel Association's Daily Getaways promotions are coming up, an event that points and miles bloggers like to rag on every year because why pay for travel when it can be (more or less) free? Basically, it's a daily line-up of "deals" on car rentals and hotel stays. The hotel packages largely consist of points that are sold at a discount, though sometimes you can find good deals on premium rooms at non-chain hotels in Vegas and elsewhere. When it comes to the hotel point packages, the deals aren't always great.
This year they're really taking creative license when it comes to describing some of these deals, especially the Hyatt packages. If you're in the market for hotel points, in most cases there are better alternatives than buying points through Daily Getaways. Here's a round-up of next week's hotel point packages and my thoughts on whether they're worth purchasing or not:
IHG Rewards Club Points (March 24)
100,000 IHG Points = $565

50,000 IHG Points = $293

25,000 IHG Points = $150

15,000 IHG Points = $90
IHG Points, which can be purchased for 0.7 cents using the Cash & Points trick, are slightly discounted to 0.5 – 0.6 cents per point, depending on how many you purchase. I wouldn't recommend buying points ever, unless you're a few short of an award redemption and don't have time to manufacture more, but the IHG deal is actually decent. If you regularly buy IHG points and find it to be a good value, purchasing them through Daily Getaways is actually pretty cheap.
The Alternative: Save $443 IHG Rewards points by picking up the IHG Rewards Club Visa. Put $2,000 worth of bonus category spend on the card (i.e. gas stations, grocery stores, restaurants) by buying gift cards and you'll end up with 75,000 points. If you get the card as part of the Set Your Sights promotion, you can generate 2,000 bonus points, not to mention get closer to the big prize (50,000+ points). Put the money you save towards the card's $49 annual fee, which is absolutely worth paying since it gets you an annual free night good at any IHG hotel.
Club Carlson Gold Points (March 25)
100,000 Gold Points = $450

50,000 Gold Points = $225
At first I thought Club Carlson was overestimating the value of Gold Points by claiming 100,000 Gold Points were worth $700 (though they are being sold for $450). That would put their value at 0.7 cents each, which is nearly double the 0.4 cent value most people assign to Gold Points. However, it is an accurate valuation for top-tier hotels. For example, summer rates at The May Fair London are $600+ or 70,000 points per night. If you redeemed points, you would get about 0.85 cents of value out of each point, which is not only double the normal assigned value (and the cost of purchasing points through Daily Getaways), but well above Club Carlson's own valuation of 0.7 cents. Factor in the last night free benefit from the Club Carlson credit card and you're getting even more value on stays of 2 nights or more.
The Alternative: While you can probably get your money's worth out of a Club Carlson point purchase, you can acquire 50,000 – 100,000 points even cheaper. For starters, pick up a Club Club Carlson credit card: The Club Carlson Rewards Visa Signature comes with a 50,000 point bonus after first purchase, with the option to earn an extra 10,000 by spending $1,500. Total cost? $50. The Club Carlson Premier Rewards Visa Signature card and Business Rewards Visa credit card each come with a 50,000 point bonus after first spend and another 35,000 points after spending $2,500 in 90 days. Not only that, but you'll get a 40,000 point renewal bonus each year. All for the low price of $75.
I don't know about you, but I prefer paying $75 for 97,500 points much more to paying $450 on 100,000 points. Use the extra cash for a paid hotel stay and you'll earn 6-10 points per $1 in addition to the 20 points per $1 paid out through the Club Carlson Rewards program. 
Keep in mind that I don't get a commission for any of the credit card links in this post, so I'm giving you unbiased advice (maybe a little biased towards credit card churning, but that's it!).
Hilton HHonors Points (March 27)
250,000 Hilton HHonors Points = $1,250

150,000 Hilton HHonors Points = $759

100,000 Hilton HHonors Points = $500
Another massively devalued currency, Hilton is lucky if it reaches 0.4 cents of value in the consumer's mind. Yet, they seem to be valuing them at 1 cent each. But don't worry, because your good friends at Hilton are going to let you buy them for just 0.5 cents each. You can certainly get your money's worth at top-tier favorites like the Conrad Koh Samui, but why spend $500 when you can generate points for far less than that? 
The Alternative: With a co-branded credit card like the Citi Hilton HHonors Reserve, you can generate 100,000 Hilton HHonors points  through $33,334 worth of regular spend at a rate of 3 points per $1. Put all of this spend on your Target Prepaid REDcard and you won't incur any fees at all. Another option is to buy Amex gift cards through a shopping portal and unload them via Amex for Target. The cash back should cover the cost of loading/unloading, essentially bringing your out of pocket cost to $0.
Hyatt Gold Points (April 10)
2 Nights in a Premium Room AKA 24,000 Points = $260

2 Nights in a Elite Room AKA 30,000 points = $330

2 Nights in a Top Hotel AKA 40,000 points = $415

3 Nights in a Hyatt Suite AKA 72,000 points = $775
30,000 Hyatt points (available for $330) are being marketed as "2 nights in an Elite room." I thought about this and it doesn't make sense. First off, what is an "elite" room? It can't be a club room because the 24,000 Hyatt point offer is being dubbed "2 nights in a premium room." That makes sense because you can book two nights in a Club Room at a Category 2 Hyatt hotel for 24,000 points. There is nothing above a standard room you can book for two nights that will set you back a total of 30,000 points. 
You can book two nights in a standard room at a Category 4 Hyatt hotel for 30,000 points, but calling a Category 4 hotel like the Hyatt Regency San Francisco "Elite" is a bit of a stretch. So is calling a Category 5 Hyatt a "Top Hotel" like the description for the 40,000 point package states. Sure, they're nice hotels but "Top" would indicate the highest category. Plus, none of my research into Hyatt's Category 5 hotels turned up anything other than a few Tripadvisor awards. That's hardly enough to warrant a "Top" rating.
The Alternative: Get two free nights at any Hyatt by picking up the Chase Hyatt Visa. You can get a card offer with a $50 statement credit by going through the online booking process. Simply pick a random date at a Hyatt hotel and when you get to the booking page, you'll see the better offer right next to the credit card information box. Put the $260 saved towards a nice massage, a fancy dinner, the obscene cost of parking at some city hotels, or the annual fee for 3-4 credit cards. 
Aside from the way some of these packages are marketed, I'm not a fan of buying points during Daily Getaways. It's costly and with the threat of devaluations looming over us constantly, I wouldn't shell out cash for points that could be worth much less after they have been purchased. However, some of you might find these deals to be a good value. If manufactured spending and credit card churning aren't your thing, then buying points and maximizing award redemptions might work out well for you.
Subscribe via email for more points, miles and free travel