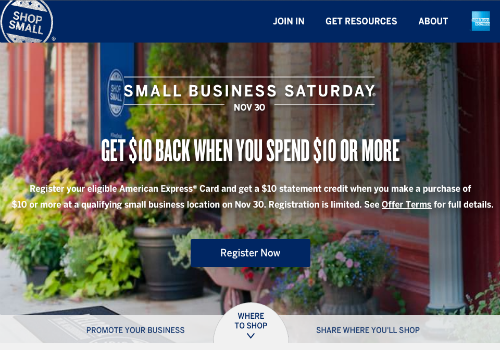 Following the insanity of Black Friday is a less hectic shopping event: Small Business Saturday. Simply register your American Express card by November 30 11:50 PM (MST) and receive a $10 statement credit when you shop at participating small businesses. Keep in mind you'll have to spend at least $10, which basically translates into free post-Thanksgiving shopping.
Few people will be thrilled with a $10 gift, but what a lot of folks do is buy gift cards at these merchants and use them later towards a bigger purchase.
Unfortunately, prepaid cards are excluded from this promotion. Registration continues until a capacity is reached, and as of this writing, there is still time.
Just looking at the list of participating businesses in my town, there isn't much worth getting out of bed for on a Saturday, except for maybe a decent local pizza place. On the upside, if I find myself on the wrong side of the law, Norman Johnson Bail Bonds will gladly offer its services to me. I'm all about creative ways to earn points and miles, but I think I'll hold off on being arrested until a bigger promotion comes around.
Here's hoping you have a better list of participants in your town.
Subscribe via email for more points, miles and free travel