Years ago, I was watching an episode of some travel show (maybe Globe Trekker) where the host traveled to Brunei to attend the annual Eid Al-Fitr celebration at Istana Nurul Iman (known as Hari Raya Aidilfitri in Brunei). It immediately caught my interest and I put it on my bucket list but forgot all about it – until now. For those unfamiliar with Brunei, it's a tiny oil-rich nation on the island of Borneo with just 415,000 residents. The ruler of Brunei, Sultan Hassanal Bolkiah, resides in Istana Nurul Iman. Istana Nurul Iman happens to be the world's largest palace at a staggering 2 million sqft. Every year on the first three days of Eid Al-Fitr, Istana Palace holds an open house and all who come through are treated to a feast.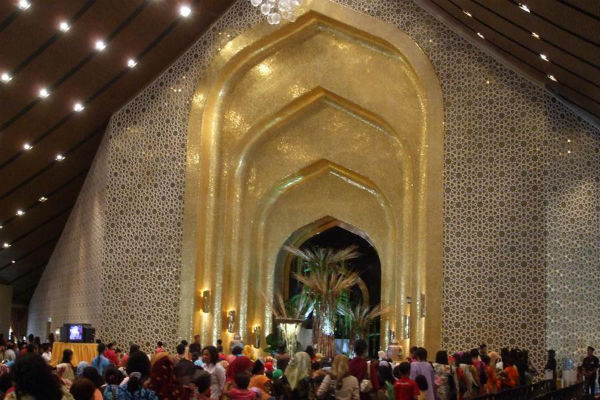 Regardless of whether you're a citizen of Brunei or some random traveler, all are welcome to partake in the festivities. Small gifts are handed out to guests, children receive packets of money (an Eid tradition), and everyone gets to meet the Sultan and his family. The men are lined up in one room, the women in another. All guests are welcome to shake hands and exchange greetings with members of the royal family. Then everyone roams the banquet hall and the Sultan makes chit chat with his guests.
Now whether you want to make chit chat with a guy who was once accused of patronizing mail-order prostitutes is a whole other story (the story was either made up or diplomatic immunity goes a long way). In my case, I've never spent Eid in an Islamic country before. Since Brunei makes such a grand game of it and it's just a 2-hour flight from Singapore, I might work it into my trip. 
The Open House event takes place over three days and over 100,000 people attend the festivities. This year, Eid Al-Fitr will likely take place on July 17. Every year there's a debate about that since the exact end of Ramadan is based on the lunar calendar. If you're passing through Asia around this time, the annual Eid celebration in Brunei might be worth working into your trip. Air Asia and Malaysia Airlines offer several flights out of Kuala Lumpur, while Singapore Airlines has five flights per week out of Changi Airport. Royal Brunei Airlines operates flights out of multiple cities, including Singapore, Bangkok, London Heathrow, and Dubai, to name a few. As far as accommodations go, there's a Radisson hotel, which goes for 44,000 points or $83 per night. There are also several decent local hotels for under $200 per night.
Outside of a few travel articles, I couldn't find details about what time the event normally starts. I tried looking up a Twitter account for the tourism board and (surprise) there isn't one. Someone told me Brunei isn't actively seeking tourists due to a booming oil industry. This explains a tourism website that hasn't been updated in two years and the invalid email address listed on the Istana Nurlul Iman website. I've reached out to the Brunei Embassy for detailed information and will update you guys if they get back to me.
I'm landing in Singapore around Eid and will see if I can change my plans. Our next stop is Bali and instead of flying to Kuala Lumpur afterwards, we could just fly to Singapore instead. We'll likely need to depart from there anyway. This is the first Eid my family and I aren't going to be home to celebrate with our extended family, so I do want to make sure we do something special – and what's more special than spending Eid at the world's largest palace?
Logistics are a problem. However, since our Cathay Pacific flight out of San Francisco stops in Hong Kong before continuing on to Singapore, we could drop the last segment and catch a Dragon Air or Malaysian Airlines flight to Kota Kinabalu (BKI) for 7,500 miles per person. Then we'd take a $64 Royal Brunei flight to Brunei International (BWN). We'd spend four nights in Brunei, continue to Bali, then catch a flight back to Singapore, where we'd wrap up our stay before flying home. The only question is, what is there to do in Brunei for four days?! Still, I hope it works out.
Have you ever attended the Eid Al-Fitr festivities in Brunei? I'd love to get your feedback in the comment section.
Subscribe to Blog via Email