Last weekend I attended the Chicago Seminars for the first time. It was my first frequent traveler event and I was looking forward to it. Here is a play-by-play of the weekend:
The flight to Chicago. I met Michelle at the airport at the ungodly hour of 5 AM. I love Sacramento Airport – I can get there under an hour before my flight, check in, go through security, and still have enough time to grab coffee before making it to the gate with 20 minutes to spare. On this occasion, I got to bypass the nude-o-scope, which is always a welcome change in protocol.
Michelle had gifted me one of her regional upgrades, though hers didn't clear and we ended up in separate cabins. The flight was pretty uneventful.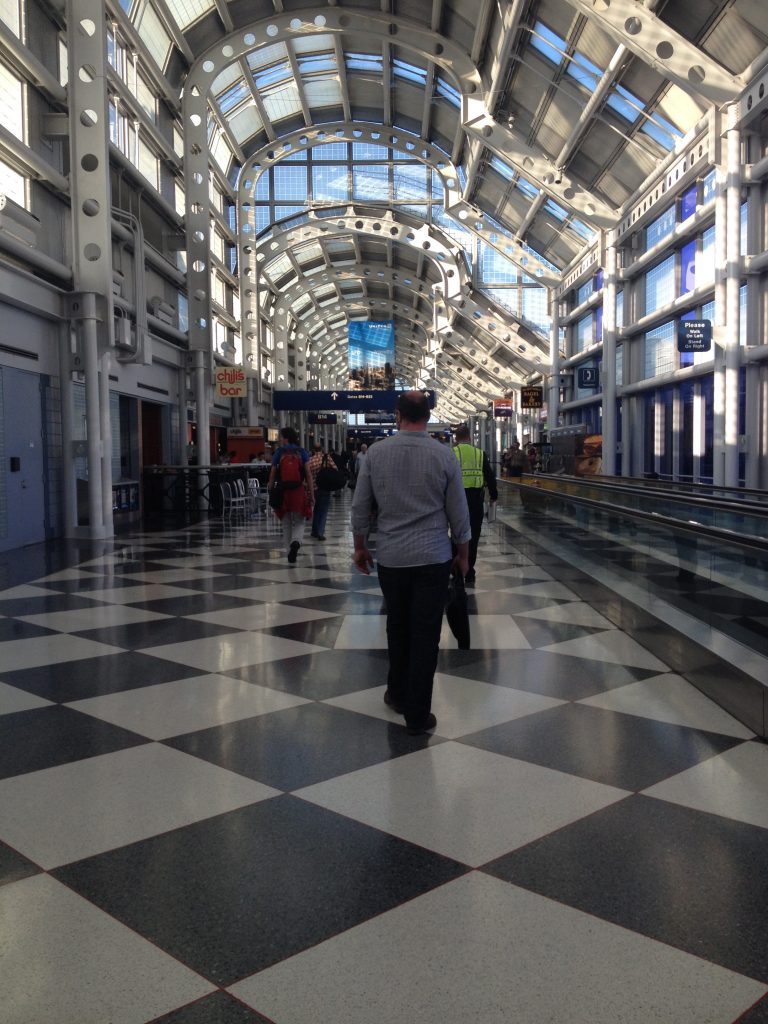 Taking a city cab into the boonies. After finding my friend/co-worker, we headed off to the Doubletree Wood Dale – Elk Grove. The guy working the cab stand put us into a city cab, which charges double. So $50 later, we were in a strange corporate center/rural/suburban area of Chicago at the Doubletree. They were nice enough to check us in early and after a quick lunch, we were off to the Holiday Inn Chicago Elk Grove. If you're going to attend this event in the future, book early and try to stay at the actual hotel. If it's sold out, book the overflow hotel or check availability close to the event. As luck would have it, they had several cancellations the next morning and we were able to switch hotels.
A $67 Uber ride. This change in venue didn't occur before we took an ill-fated Uber ride back to the Doubletree. After a 7-minute wait that turned into a 20-minute wait, our driver picked us up and we began the 3.5 mile journey to the hotel. All of a sudden, the road started to look unfamiliar and within moments, we were on the freeway. Right away, my friend pulled out her phone and determined the driver was taking a 20-mile detour. I don't think it was intentional. I'm sure the GPS gave him directions for the long way – or maybe he decided after a 20-minute drive, he was going to get his money's worth. In any case, we contacted Uber and they eventually refunded us $50.
The Seminar. Largely dominated by newbies, you can still pick up a new trick or two from the veteran presenters. At any given time, there are at least two sessions happening at once. Because I had to cover the event for Frugal Travel Guy, I bounced around between sessions to get a better overview.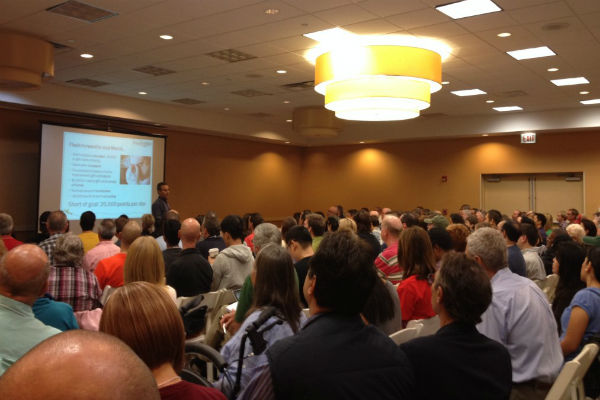 Stefan from Rapid Travel Chai had a great presentation on international travel and how to take advantage of cheap local fares. Captain Denny gave an inspiring talk about his job – isn't it nice when you hear from people who enjoy what they do? It's especially nice when those people work for United. Employee satisfaction (or anyone's for that matter) isn't exactly their strong suit.
Steve Belkin shared his colorful antics and managed to keep his audience captivated without a slideshow. Hans Mast left the room envious when he recounted buying 7,000 miles for $0.50 each. Rick and Howie did a great job talking about credit cards and managing family accounts.
The best and worst people you'll meet. I won't actually out anyone as the "worst." There were plenty of great people. I got to chat with Greg from Frequent Miler, who also presented on his Million Mile Madness experiment. When I asked him if being hounded ever got old, his response was, "No, it's nice. I mean, it's not like this at home." Class act. Stefan had some interesting travel stories and I'm envious that his job requires him to travel abroad so often. Mommy Points is a true pro and we interviewed her for a brief FTG video. Mr. Pickles wasn't as elusive as I had thought. I was looking forward to meeting Angelina, whom I bumped into at the buffet line.
It was great meeting Howie in person, after working with him for the past six months. His wife, Sarah, takes this hobby in stride and is even going on a 6-segment mileage run with him (did I mention they're doing this 5 times)? I met Christine Krzyston, one of the many talented writers at FTG, who also happens to be a lovely person. Meeting Mr. Million Mile Secrets was nice, and Geoff from Noob Traveler was great as well. Giddy for Points, Travel Summary, Deal Mommy, Mark Palmer, Traveling Momma and the list goes on and on. I loved meeting all of these folks. There were really only a couple of people I didn't care for, though I'm sure they know who they are.
If you show up to one of these events and find yourself uncomfortable/friendless, go hit up one of the sponsor tables or talk to Rick. He will gladly chat with you and find you a kindred spirit to talk to.
As for the highlight of the event, behold your future: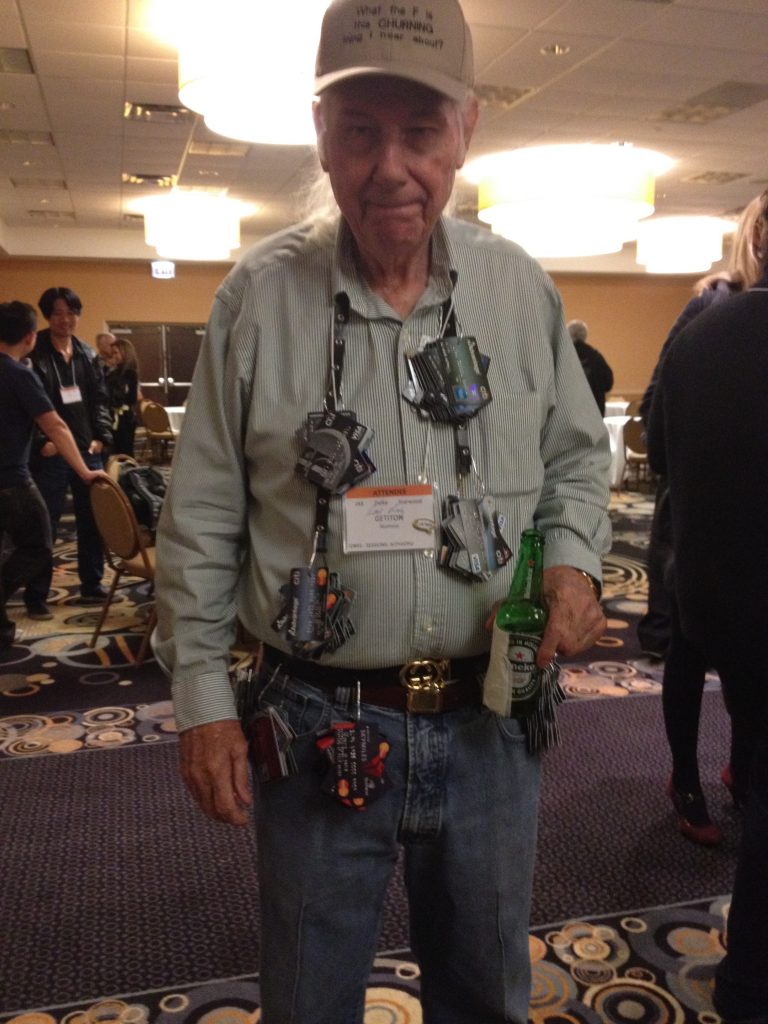 This is Ray, who has been in this game longer than most of us have been alive. He fashioned this matching necklace and belt to keep track of his extensive credit card collection. As you can see, he's wearing two belts because as he confided, "this thing is so heavy, my pants are falling down." How many does he have? He has never counted them. He showed me his Amex Black Card, which displayed his membership date as 1959. I didn't know American Express had been around that long. What's more, this isn't even his entire collection…
Heading Home. Some blogger tweeted about their favorite O'Hare restaurant, Tortas Frontera. We decided to try it out and were not disappointed. Their tortas are insanely good, though seating is sparse. Afterwards, we met up with Michelle, who was headed to the United Club lounge. She tried to guest both of us in, but the agent wouldn't budge. Eventually, we found Karyn, who was happy to guest us in. Christine was also there and it was a great way to pass the time. The flight was oversold and I was tempted to volunteer to be bumped, but it was 8:30 PM and I was looking forward to getting home.
The Chicago Seminars are a great event if you want to learn the tricks of the trade, meet your favorite bloggers, and catch up with fellow points and miles enthusiasts. It takes place at the same location every year, so if you can manage it, try to go at least once.
Subscribe via email for more points, miles and free travel