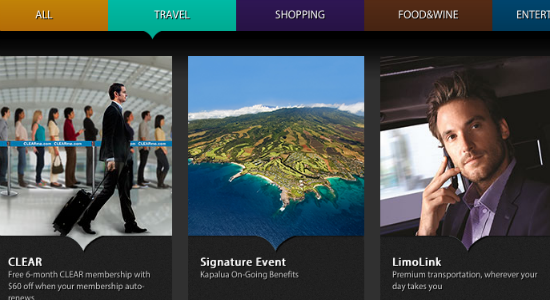 Credit cards are great, until the annual fee sets in and you have to decide whether to keep or cancel the card. Some cards are better at earning their keep than others. If you have an American Express card, chances are occasionally you'll come across a few great statement credit offers that help off-set the annual fee. Visa Signature also offers great discounts and freebies every once in a while.
If you're wondering whether your credit card is a Visa Signature card, simply check the back of your credit card. Credit cards like the Chase Sapphire Preferred, Ink Bold/Plus (newly issued), Hilton HHonors Reserve, the Alaska Airlines credit card issued by Bank of America are just a few examples of common Visa Signature cards you may carry in your wallet. If you don't have a Visa Signature card and are looking to pick one up, the list posted on the Visa website is pretty thorough though by no means complete.
Here are a few current freebies from both programs that can help you save some cash:
1. CLEAR Membership. I've covered the benefits of CLEAR membership before. For those unfamiliar with CLEAR, it's a program frequent travelers can enroll in to get through security faster. Visa Signature cardholders get a 6-month CLEAR membership free of charge and a discounted membership fee of just $60 when they auto-renew. This offer has been around for quite a while and there is no registration deadline listed, but if you have an upcoming trip (especially if it's in economy) and you want to make your airport experience a bit smoother, this is a great offer to take advantage off. Normal CLEAR membership is $75.
2. Free Movie Tickets. Another long-running Visa Signature promotion, the +1 Movie Fridays deal offers one free ticket with the purchase of two or more via Fandango. Tickets must be purchased and used on the same Friday, which is a bit restrictive but really, is there a more perfect day to go to the movies than on Friday? This offer is good through August 8, though I'm sure it will be extended like it has in the past. You can take advantage of this deal every 30 days. The deal covers tickets and convenience fees of up to $19.50, which is a great way to off-set the annual fee on your Visa Signature card.
3. Free Hotel Nights + Elite Perks. Visa Signature is running free night promotions at several chain hotels. Through August 31, cardholders booking three nights or more at the Park Hyatt Toronto will get their third night free. In addition, bookings are eligible for room upgrades (when available), free internet, complimentary continental breakfast, late checkout, and a $25 food or beverage voucher. At the Hyatt Regency Indian Wells Resort & Spa, guests staying through October 31 get their fourth night free and the same benefits outlined above.
At the Conrad Miami and Tokyo, members get their fourth night free in addition to the elite perks listed above. The promotion for the Conrad Miami runs through October 31, while the Conrad Tokyo offer is good through August 31.
All bookings must be made through the Visa Signature website to receive the free night and benefits. I searched a few random dates for all of these properties and the rates on the Visa Signature site are the same as the ones listed on the hotel website. The Hyatt My Elite rate was cheaper, but not everyone qualifies for those rates. Programs like Visa Signature are really great for mimicking elite status without expensive mattress runs.
4. $50 Statement Credit from American Express Travel. This is an offer that was displayed for my SPG Amex personal card offers, but not for my Business or Platinum cards: Through 8/31, Get a $50 statement credit for using your card to make $250 or more in prepaid hotel bookings through Amextravel.com. This isn't entirely "free" per se, but it's pretty valuable if you have to book paid travel and your plans are firmly in place.
5. $25 Statement Credits at Costco. When you're done sampling little cups of mac and cheese, crackers, and washing it down with the latest flavor of Welch's, there is an even better freebie awaiting you at check-out: A $25 statement credit on your purchase of $25 or more. This credit is only valid in store and can't be applied towards gas purchases. Costco memberships are eligible for the statement credit, which is almost a 50% discount on their lowest level Gold Star membership ($55 per year).
6. $10 Cash Back on American Express Gift Cards. Another technically "not free" freebie – unless you're buying American Express gift cards at a profit via a cash back credit card. The reason I'm not factoring in shopping portals is because you can't use promo codes that aren't supported by the shopping portal you're using. However, if you use a cash back card to buy your gift cards and you recently took advantage of the free premium shipping plan, then getting $10 off your purchase of $200 or more is a nice bonus. On a $5,000 gift card purchase (the maximum allowed per two week period), you're paying $7.90 in gift card fees. With the $10 statement credit, you pocket $2.10 and at least 5,000 bonus points. Not enough to make you take up manufactured spending as a full time job, but free points are always good.
Subscribe via email for more points, miles and free travel