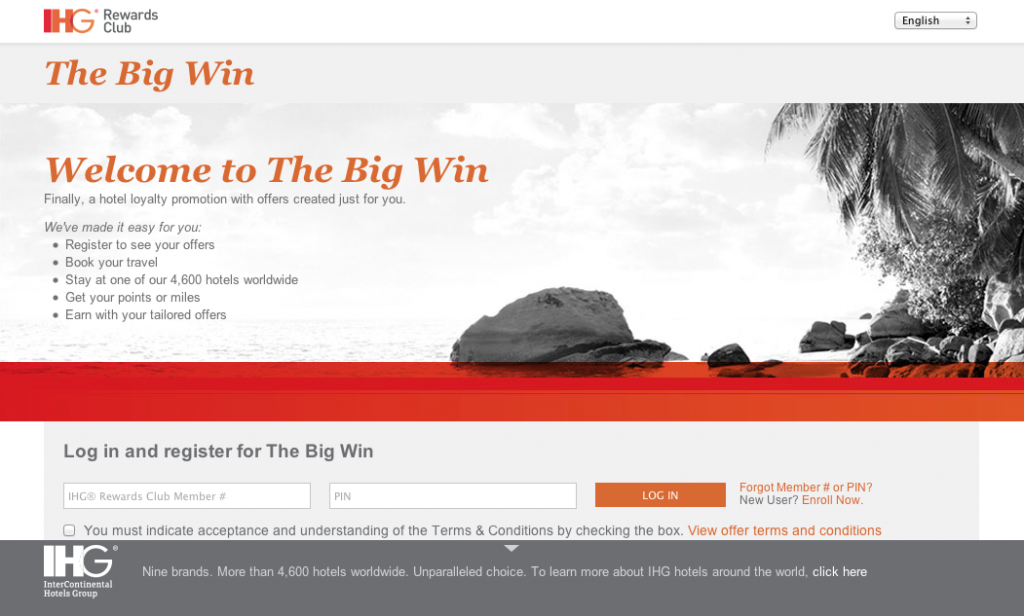 Through December 31, IHG Rewards is running its new Big Win promotion offering tiered bonuses of up to 50,000 points. Members must register and complete the following:
Try one and done

.

 Stay at any IHG hotel and receive 1,000 points
Stay more and earn

.

 

Stay a total of 4 nights and receive 4,000 points

Explore more brands

. Stay at 3 different IHG brands and receive 10,000 points

Book with us

. Book 2 separate stays through an IHG hotel website or mobile device to get our best price guarantee and receive 2,000 points

Win in a weekend

. Stay 2 Saturday nights and receive 8,000 points

Win big

. Complete all of these offers and receive 25,000 points.
You can earn the maximum payout  by staying just four nights at three different hotels.
I've had luck during other promotions with getting hotels to check me in and out, without actually having to be there. Doing a quick search of the cheapest hotel markets in the US, I found Dallas, Orlando, Atlanta, and Norfolk, VA have some of the lowest rates across the board. Here's a sample of an affordable mattress run:
Holiday Inn Express Hotel & Suites Orlando South-Davenport has rates as low as $53 per night (including tax) on Saturday, October 12.
Points earned: 1,000 points from One and Done

530 points at 10 points per $1 spent
Candlewood Suites Dallas Park Central goes for $49.44 per night (including tax) on Monday, October 14 and Saturday, October 19. Book both nights.
Points earned: 10,000 points (2,000 points from Book With Us and 8,000 points from Win in a Weekend).

494 points at 5 points per $1 spent
Holiday Inn Dallas North-Addison has rooms for a total of $65.53 per night including tax on October 26.
Points earned: 39,000 (10,000 points from Explore More Brands; 4,000 points from Stay More and Earn; 25,000 points from Win Big)

650 points at 10 points per dollar spent
So, for around $217.41 total, you can come away with 51,810 points. If you do a bit more research, you can probably bring this amount down to $200. Add to this the myriad of promo codes and you could be looking at an even bigger point payday.
You can use your 50,000 point sign-up bonus for 10 nights at a Pointbreaks hotel or at top-tier properties like the Intercontinental Le Moana Bora Bora, which goes for around $500+ per night. Or hold out for a good PointBreaks property and redeem up to 10 nights.
Internationally, hotels like the Holiday Inn Resort: Krabi Ao Nang Beach has nightly rates starting ay $55 September through October, but I don't know how receptive they would be to letting you check in virtually.
In any case, I definitely see this as a mattress-run worthy promotion. I have a stay coming up for work, which would knock out four of these offers, so all I need is a cheap weekend stay to get the maximum 50,000 point bonus.
Are you planning to mattress run during this promotion?
Subscribe via email for more points, miles and free travel