Chase has been sending out targeted offers for the Hyatt Visa Signature Credit Card: 50,000 Gold Passport points after $1,000 spent within 3 months. The current public offer for this card offers two free nights at any Hyatt hotel worldwide after the same amount of spend is completed. Some people would turn down their noses at this offer because it's not even enough for two free nights at a top-tier Category 7 hotel. I, on the other hand, prefer the 50,000 point offer since it opens up more possibilities than two free nights. Here are four reasons why the Chase Hyatt Visa 50,000 point sign-up bonus is better than the two free nights: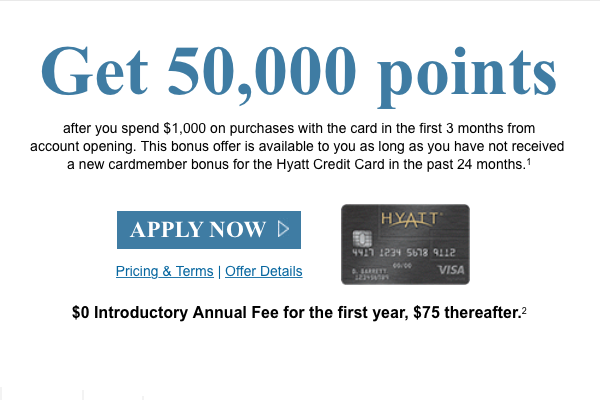 1. There aren't many Category 7 Hyatt hotels.  A free night at a Category 7 Hyatt hotel requires 30,000 points per night, so getting two free nights from the Hyatt Visa seems like a good deal if that's what you're after. However, there are only seven hotels in this category, so your redemption options (if you're looking to get maximum value out of the two free nights) are limited. 
2. 50,000 points gets you more than two free nights. Hyatt still has fairly reasonable redemption rates for most of the hotels in their portfolio. Those 50,000 points could be worth up to 10 free nights at a Category 1 Hyatt hotel. Getting a sign-up bonus in the form of points rather than free nights gives you much more flexibility. You can redeem them for more nights at lower category hotels. And you don't have to endure a guilt trip from fellow hobbyists about not using the bonus for the most exclusive hotels. Which brings me to my next point…
3. Points offer more redemption possibilities. Getting the Chase Hyatt credit card sign-up bonus in the form of points rather than free nights means you can use them for more than just award nights. The 50,000 point bonus can be used towards Points + Cash awards (often a better value than redeeming award nights), room upgrades, rental cars, and dining and spa services. Not all of these are a great use of points, but some people like the flexibility of using their points this way.
An overlooked redemption option that can provide great value are Hyatt Vacation Club bookings. Free nights start at 12,000 points for a studio and go up to 30,000 points for a 3-bedroom. This can be a great value for families or large groups traveling together. 
4. Points don't expire, free nights do. The two free nights currently offered through the Chase Hyatt Visa expire within a year. Your Hyatt points do not, as long as your Gold Passport account has some activity every 12 calendar months. Eligible activity includes earning and redeeming points. If you have the Chase Hyatt Visa, this is easily achievable. You can also keep your Hyatt Gold Passport account active by transferring points from your Ultimate Rewards account. Keep your account active and those 50,000 points from the Chase Hyatt Visa can be used at any time. Meanwhile the two free nights have to be redeemed within a year.
Unless you plan on redeeming two free nights at a Category 7 Hyatt hotel, I would go with the 50,000 points rather than the two free nights. Points offer up more redemption options and they don't expire. I'm still kicking myself for that one time I signed up for a Citi Hilton Reserve card on a whim and then let the two free nights expire…
Which sign-up bonus do you prefer?
Subscribe to Blog via Email