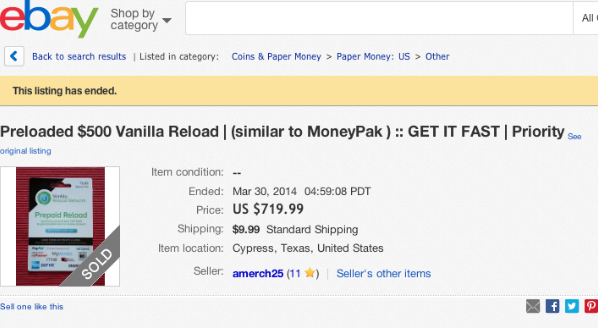 A co-worker at Internet Brands sent me this and I nearly fell of my chair when I read it. People are selling Vanilla Reload cards on eBay at massive, scalper level mark-ups. For example, this listing for a $500 card sold for $719.99!!! I understand these cards are in high demand in areas like New Jersey and Manhattan, where some stores have gone cash-only, but paying $200 for a $500 Vanilla Reload? That makes zero sense.
First off, there are still ways to generate manufactured spending at rates similar to Vanilla Reloads. Second, if you can't use those methods, use a service like William Paid, which charges a 2.95% credit card fee – it's still cheaper than paying a 40% markup on Vanilla Reloads.
Now some of you will be rushing to list your cards and take advantage of the massive profit margins. That is not surprising. I want to hear from those who are actually thinking of buying these cards. In what scenario does it make sense to pay $700 to buy $500? Please share your thoughts in the comment section.
Subscribe via email for more points, miles and free travel