I was watching an episode of The Middle recently, where Sue had to work at the Baked Potato Hut (or whatever it was called) to cater to shoppers who were foregoing Thanksgiving in order to take advantage of early bird deals on what she cleverly dubbed "Black Friday Eve." I don't know about you, but I'll be staying away from the mall or any place other than home on Black Friday Eve or Black Friday for that matter. The deals aren't that great. There are lots of other ways to get bargains while earning extra points and miles. Unless you're one of those people who camps outside of Best Buy for a $100 flatscreen and actually gets it. For the 99% of us who don't like sleeping in the cold, there are plenty of great deals you can take advantage of from the comfort of home.
1. Credit Card Statement Credits and Spending Bonuses.
American Express is king when it comes to statement credit offers. First, there's Small Business Saturday, which is happening on November 28 and gets you a $10 statement credit when you shop at local businesses. This year it's targeted, so be sure to check your Amex Offers to find out if it's available to you.
There are also a variety of lucrative Amex Sync Offers, like $15 off purchases of $60 at Amazon, two $10 statement credits on your cell phone bill of $75+, $10 off Ebags purchases of $50 or more, $50 off Cole Haan purchases over $200, and $10 off your $15 purchase at Rhapsody – to name a few. There are dozens of great merchants listed that will save me hundreds of dollars on planned purchases.
If nothing on your Amex Offers list appeals to you, the Chase Freedom card is offering one of the most generous cash back offers: Through December 31, registered Freedom cardholders get 10% cash back (or 10 Ultimate Rewards points per $1) on the first $1,500 spent at Zappos, Amazon, Diapers.com, or Audible.com. That's as generous as I've ever seen the quarterly Chase Freedom bonus. Aside from maybe the last two merchants, nearly everyone can get great value out of this promotion.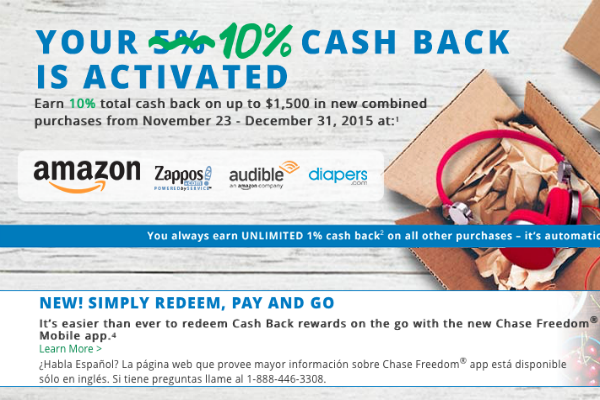 Similarly, Discover is offering 10% cash back on in-store purchases made through Apple Pay. Cash back is limited to the first $10,000 spent through December 31, 2015. I know a few people who are stacking this deal on top of other discounts to save on Apple products. I'm overdue for a new Macbook, so I may pick up a Discover card for this purpose alone.
The Visa Signature program is offering discounts of 10-25% at popular merchants as well as free shipping and other perks to help you stack extra savings on your holiday shopping. I personally didn't find these deals to be that good, but you might, depending on your shopping preferences.
Recently, I received an easy targeted offer in the mail from what has become the black sheep of my credit card collection: The Club Carlson Visa Signature credit card. This actually reminded me to follow through on my intention to cancel the card. However, the statement credit offer is a pretty easy one. All I have to do is spend $3,750 in two months to earn a combined $40 in statement credits. That's two trips to CVS and I'll not only get $40 but 18,750 Club Carlson Gold points. I will end up spending around $37 on Paypal MyCash Card fees, but it's basically free manufactured spending and I can redeem the points for a free night at a Category 2 Club Carlson hotel. Or combine them with my current stash of points for a top-tier Category 7 award.
2. Gift Card Promotions
There are lots of great gift card promotions going on right now. OfficeMax is offering upwards of $200 off Visa gift card purchases of $300 or more. I just got back from my local OfficeMax, where I received $10 off each $200 gift card. This off-set the $6.95 fee and covered the fees I ended up paying on three gift cards I purchased at the Safeway next door (say that three times fast). Don't have an OfficeMax in your area? Keep an eye out for gift card deals offered by other office supply stores. Like Staples and Office Depot.
I came across another decent gift card deal while browsing my American Express Offers: $20 off gift card orders of $200 or more – in case you're confused about why you should keep buying Amex gift cards now that shopping portals don't offer cash back anymore, read up on my reasons why deals like this still make sense.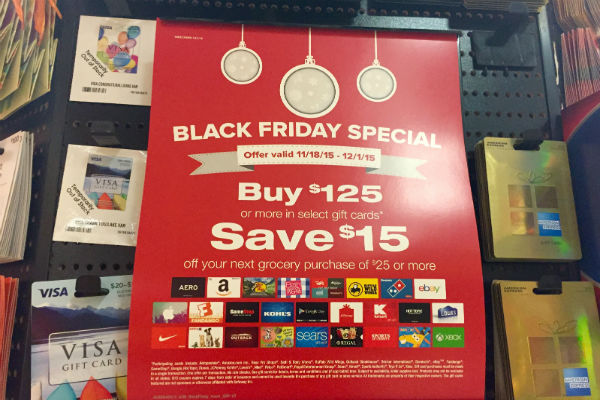 Aside from Amex Sync deals, you can save an easy 12% on select gift card purchases at Safeway. Mine is offering $15 for gift card purchases of $125 or more. Qualifying gift cards include Amazon, iTunes, Sears, Kohl's, Fandango, and more. The $15 is paid out in the form of a coupon. It unfortunately can't be used for another gift card purchase, but consider it extra cash towards future grocery spending. This promotion is going on until December 1, giving you plenty of time to take advantage of it. 
3. Shopping Portal Bonuses
Many online merchants will offer great deals which, frankly, are good enough for me to stay home and shop online. If you're in the same boat, you'll be pleased to know that some shopping portals are offering incredibly generous spending bonuses alongside higher earning rates at participating merchants. American Airlines' AAdvantage Shopping is offering tiered bonuses depending on the amount spent: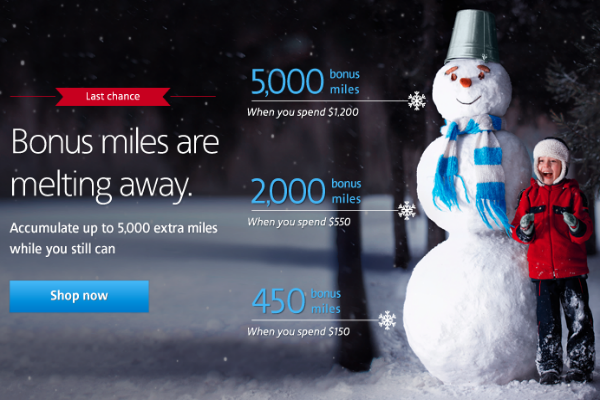 Be sure to keep an eye out in your email for similar offers from Alaska MileagePlan Shopping, Delta Skymiles, United MileagePlus, or your preferred hotel/airline shopping portal. Is cash back your preference? Giving Assistant is doubling cash back on popular merchants like Kohl's, Nordstrom and Best Buy. The 7% cash back offered at Nordstrom is the highest I'm aware of, so I'm looking forward to pairing it with the 2.1% travel cash from the Barclay Arrival Plus card for significant savings on a pair of boots and a laptop bag I've been eyeing. 
By the way, if you're new to Giving Assistant and use my referral link to sign up, we'll both earn $5 cash (don't spend it all in one place!).
That's pretty much my Black Friday alternative strategy this year. I'll generate significant savings and miles at minimal hassle through these deals. The best part? I won't have to leave the house or deal with the chaos that awaits shoppers rushing to the mall.
Subscribe to Blog via Email