Tickets for the 2015 Chicago Seminars are going on sale today at 12 PM (ET). The event will be held on October 16 – 18, 2015 at the Holiday Inn Chicago Elk Grove Village, which is a short drive from Chicago O'Hare Airport. For those of you who are unfamiliar with the Chicago Seminars, it's an annual event put together by Rick and Howie from Frugal Travel Guy, where fellow travel hackers get together to talk shop and listen to presentations given by some of their favorite bloggers.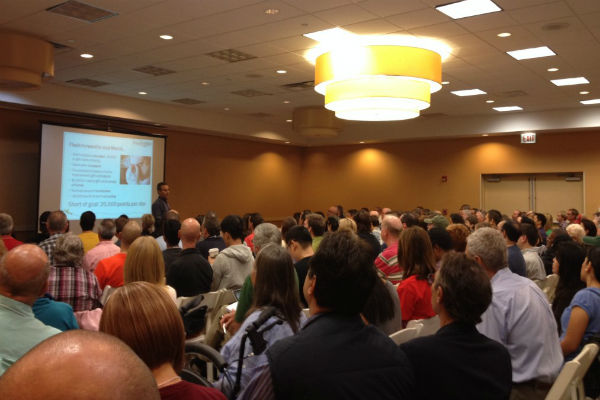 Those who are new to the hobby will find the presentations very informative. Seasoned vets will know most of what's being discussed, but they'll get more out of the networking aspect of the event. Everyone will enjoy listening to guys like Greg and Steve Belkin, whose presentations are always filled with funny and interesting anecdotes (note: Turns out Steve Belkin isn't presenting this year).  If you've never attended one of these events and want to know more about what it's like, check out my recap of the 2013 Chicago Seminars. 
Registration
The registration link can be found on the Chicago Seminars 2015 Flyertalk thread once it goes live. Tickets cost $100, which includes admission, lunch on Saturday and Sunday and coffee/snacks. Payments are accepted through Paypal, so you can pay with a mile-earning credit card and earn 1 – 5 points per $1 spent. All proceeds from this event will be donated to charity and last year alone they raised over $8,000. The schedule was just released and includes the following speakers:
Friday October 16th

4pm – 830pm – Registration Desk Open

5pm – 530pm – Introduction and Welcome to Chicago Seminars (hdawg)

6pm – 7pm
Rookie Bootcamp with Dave (Bikeguy)
International Bootcamp with Stefan (Rapid Travel Chai)
Become an Expert with ExpertFlyer (John from ExpertFlyer)

730pm – 830pm
All About Delta with Rene (DeltaPoints)
All About Southwest with Bonnie (FrugalTravelLawyer)
Organizing Everyone's Points with Howie (hdawg / FTG)

Saturday October 17th

830am – 12pm – Registration Desk Open

830am – 930am – Customer Service & Aviation with Captain Denny Flanagan

945am – 1045am – Credit Cards with Rick the Frugal Travel Guy

11am – 12p
Beginners with Summer (Mommy Points)
Bluebird, Redbird and Serve with Greg (Frequent Miler)
Greg The Frequent Miler & Experiments
Manufactured Spending with Marathon Man

12pm – 1pm – Lunch

1pm – 215pm
How To Find Cheap Premium Airfare with Ben Schlappig (One Mile At A Time)
Maximizing Online Portals with Greg (Frequent Miler)
Cruising with MJ & Amtrak with Dave (Marshall Jackson on Travel & Bikeguy)

230pm – 345pm
Last Minute Award Bookings with Ben Schlappig (One Mile at a Time)
101 Tips to be an Expert Traveler with Stefan (Rapid Travel Chai)
Amazing Value on Aeroplan with Miguel (PMMTravelConsulting / FTG)

4pm – 5pm
Live: Award Booking with Ari Charlestein (Travel Education Network)
Exotic and Adventure Travel with Matthew Clint (Upgrd)
Booking Awards for Five or More People with Dave (Bikeguy)

515pm – 615pm
Anti Round-the-World Trip Redemptions with Scott (MileValue)
Award Stopovers with Drew Macomber (Travel Is Free)
Sweet Spot Award Redemptions with Angelina Aucello (Just Another Points Traveler)

Sunday October 18th (All Sunday Sessions are open to all)

8am – 9am – Open Panel Discussion on Credit Cards

9am – 10am – Sponsors Workshop

10am – 11am – Charity Raffle

1115am – 1215pm – Hotel Breakouts

1215pm – 115pm – Lunch

115pm – 230pm – Airline Breakouts

245pm – 4pm – Event Closing & Open Panel on Everything Else
Hotel
Staying at the host hotel is the most convenient option and group rates are very reasonable at $84 per night, including breakfast. Be sure to use this link (booking code CHS) to book the discounted group rate. If the host hotel sells out, you can book the Holiday Inn Chicago O'Hare for as low as $112.95 per night or redeem IHG Rewards points. The cheapest Points + Cash option is 10,000 points + $70 per night. 
When I attended the Chicago Seminars in 2013, I stayed at the Doubletree Wood Dale – Elk Grove, which was just 3 miles away. The only thing I didn't like about staying there was trying to catch a cab or Uber to the host hotel. Uber drivers tend to be further out in the city and don't like coming out to the boonies for a quick pick-up/drop-off. The cab drivers in the area don't like taking credit cards for small fares, so you'll need to carry cash or see if you can put the Curb app to use (you can get a $10 credit with my referral link).
Flights
Whether it's a paid fare or a mileage redemption, you shouldn't have a problem finding a flight to a major airport like Chicago O'Hare (ORD). Just be sure to time your flights so you don't miss out on the event. The Seminars start at 5:00 PM on October 16 and end at 4:00 PM on the 18th. There is plenty of award space departing from Sacramento (SMF) and San Francisco (SFO) on Alaska, American, and United Airlines.
Nonstop paid fares are as low as $230 roundtrip on Frontier (you'll need to depart a day early to arrive in Chicago on time) or $370 on Virgin America. I'd go with the Virgin America fare and redeem 15,722 Elevate points or 33,300 Barclay Arrival miles. It takes slightly more spend to generate the required Arrival miles for this trip, but you'll also earn Elevate points by going the Barclay Arrival route. If you just care about booking the cheapest ticket, a nonstop Frontier flight for 20,700 Arrival miles (or $10,350 worth of manufactured spending), is tough to beat.
Will I see you at the Chicago Seminars this year?
Subscribe via email for more points, miles and free travel