Update August 1 at 5:15 PM (PT): According to the Twitter follower who messaged me originally, her offer requires a total of $15,000 to be spent within 3 months. Some folks are getting offers for $20k. Whichever you get targeted for, the below info will apply to you.
A Twitter follower sent me a message recently that left me pretty envious. She's been targeted for the 150,000 point American Express Platinum Business card offer. The current public offer for the card is 40,000 points after $5,000 spent within 3 months. The 150,000 point sign-up bonus requires $20,000 spent within 3 months and the $450 annual fee isn't waived the first year. That's about as high as I've seen this sign-up bonus on the Platinum card – especially considering I never got a sign-up bonus for the card because I opted to upgrade the American Express Business Gold card rather than close the account down.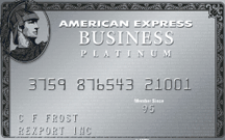 In any case, if I were to receive an offer in the mail for 150,000 Membership Rewards points after $20,000 spent, I would absolutely jump on it. While $450 seems steep for 170,000 points (especially in light of the Citi Executive AAdvantage card, which offered 110,000 miles at $250), the real cost is actually much lower. In fact, you may even end up with a profit. Here's how:
1. The annual $200 Airline Fee Credit. Factor in that the $450 annual fee is assessed every 12 months while the airline fee credit is renewed every January, and you easily offset $400 of your first year's annual fee by the time the new year rolls around. In my experience, buying Southwest, United, or American Airlines gift cards in $50 increments has resulted in the $200 airline fee credits posting to my account.
2. Global Entry or TSA Preckeck fee credit. The Global Entry program is great even for occasional travelers, helping to make travel a bit more convenient. The fee isn't all that high at $100, but it's certainly nice that American Express will comp it when you charge it to your Platinum card. Alternately, you can enroll in TSA Precheck, for which the $85 fee is also covered in the form of a statement credit.
3. Airport Club Lounge access. Lounges are pretty overrated, in my opinion. It's just a place to hang out before your flight, grab some cheap pretzels, water, and enjoy the cramped space company of other travelers paying $50 per visit for the privilege. American Express Platinum members get access to the highly touted Centurion Lounge (available only in select cities) as well as over 600 domestic and international lounges via Priority Pass and the Airport Club Access programs.
4. SPG Gold status. Not that you should mattress run for SPG Gold status, but if it's important to you, having the American Express Business Platinum card gives you instant Gold status, saving you 10 stays/25 nights at an SPG hotel.
5. Amex Sync offers. The savings from American Express sync offers can really ad up. I frequently get discounts from Whole Foods (currently $10 back when you spend $75), restaurants, Costco, Amex Travel, Amex gift cards, and various retail stores. These are just the offers you get when you log into your account – it doesn't even include Small Business Saturday. If you were to take advantage of one $10 statement credit every month, that would knock off a fourth of the annual fee with very little effort.
6. Insurance. The American Express Business Platinum card offers several types of insurance that come in handy whether you're traveling abroad or are on the road a lot. Travel Accident Insurance typically costs $65 per trip on average, but is covered by the Platinum card. With Roadside Assistance, you save $50-$75 when you look yourself out of your car the morning of a job interview, leaving your wallet and cellphone inside, or your tire explodes on the freeway in the middle of the night on your way home from work (true story). At the very least, this perk saves you the $30-45 annual subscription fee for AAA.
If you're worried about missing out on travel discounts by giving up your AAA subscription, keep in mind that the American Express Fine Hotels & Resorts program offers substantial discounts and elite perks at thousands of hotels worldwide.
If none of these perks are useful to you and you'd rather not have to spend money to get it back, there's another option. Simply meet some of your spending requirements by buying American Express gift cards through a cash back portal and you can generate enough cash back to off-set the annual fee. I don't recommend you go all out and buy $20,000 in Amex gift cards at once. But spending $20,000 over the course of a year should be fine. 
On $20,000 in Amex gift card purchases, you're looking at $500-$800 cash back, depending on the portal payout. Currently, Big Crumbs is offering 2.7% cash back, at which rate you'd generate $540. Factoring in card fees (unless they're waived during a promotion) at $27.65 for seven cards (six for the maximum $3,000 and one for $2,000) and shipping fees (unless you get it waived via the free shipping trial) at $53.70, you'd still come away with $418.65 – $718.65 in cash back.
Obviously there's no sense in keeping a card if you don't use it, don't find the currency useful, and get nothing out of the perks it offers. However, if the only thing keeping you from taking advantage of the 150,000 point sign-up bonus is the $450 annual fee, then this post should alleviate some of your concerns.
Subscribe via email for more points, miles and free travel