Last week I announced a giveaway for a $150 Club1 Hotels credit. For those unfamiliar with Club1 Hotels, it's a members-only travel website that offers some incredible deals on hotels and tours. In lieu of charging a commission Club1 Hotels charges a $675 membership fee, however they extended a free 1 year beta membership for readers of this blog. Entering the $150 giveaway required leaving a comment on the original giveaway post, letting me know where you would put the $150 credit to use.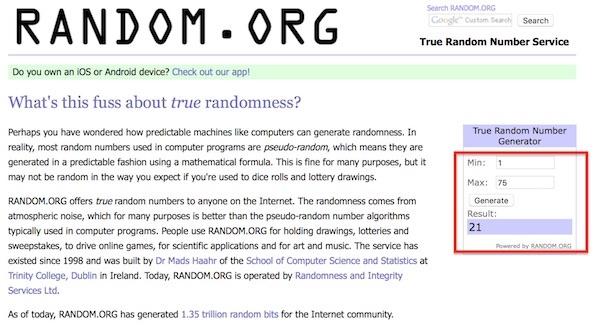 A total of 80 comments were left. Factoring out non-entries (i.e. comments from Club1 Hotels reps, reader questions and my responses) brought the total to 75. I entered this number into Random.org and  Random.org and the winning entry number came up as 21. I went down the list, counting every eligible comment until I got to the 21st, which was left by Paul, AKA Island Traveler. Congratulations, Paul! I'll be in touch shortly with instructions on how to claim your prize.
Thanks to all who participated. Be sure to claim your FREE Club1 Hotels membership while the offer is still available. As a reminder, I will earn a $4 referral fee for each reader who signs up for this free membership using my link. Thanks for your support!
Subscribe to Blog via Email