A reader tipped me off to this American Express gift card deal at Office Depot he found in a newspaper: Get $15 off with the purchase of $150 in American Express gift cards. The purchase fees  on these cards vary between $3.95-$5.95, but even so you're earning a profit with the discount and when you factor in the 5 points per $1 earned when you pay with an Ink Bold/Ink Plus card. Some stores may give you a hard time with credit cards, but if you're able to find one that accepts them, this is a pretty easy way to generate some extra points and cash.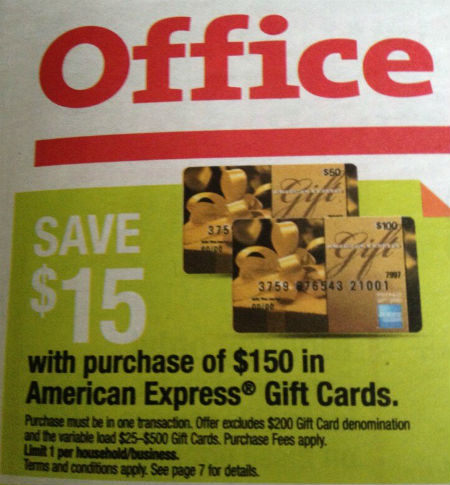 If you go for the minimum $150, you're looking at 750 Ultimate Rewards points with the Ink card, plus around $10 profit. If you were to convert your points to cash, you'd look at an additional profit of $7.50. Some stores limit the number of cards, but even if there isn't a limit, I wouldn't go nuts and buy the whole rack (remember the rules of manufactured spending).
These periodic gift card promotions from office supply stores are a great way to generate a quick buck and points. Plus, these cards are fairly easy to unload. With American Express gift cards, you can load them onto your American Express for Target cards or use them to buy pin-enabled Visa gift cards and load those onto Bluebird.
Subscribe via email for more points, miles and free travel