The Points + Cash trick has been the preferred method for accruing cheap IHG points for a while now. Members could buy points at a rate of 0.7 cents each, though in a slightly shady fashion. If you're short on IHG points for an upcoming stay, you'll be happy to know that through June 30, 2015 IHG is offering a 100% bonus on point purchases. Up to 60,000 points can be purchased during this promotion. The results in a total of 120,000 points at a cost of $690, making this method cheaper than the Points + Cash trick! Point purchases are processed through points.com, so unfortunately these purchases don't qualify for Arrival Miles travel redemptions.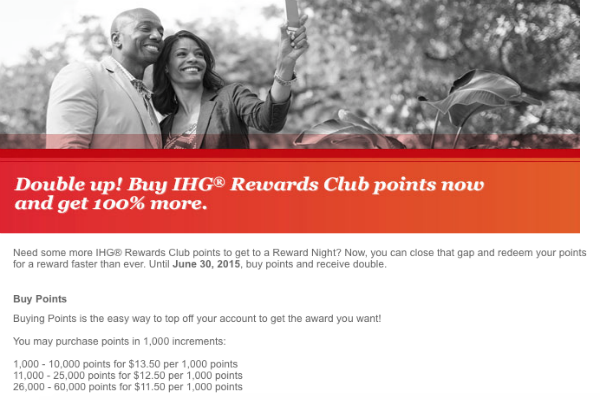 IHG Rewards Club has nine hotel categories, ranging from 10,000 – 50,000 points per night. Through promotions like Pointbreaks, you can book participating hotels for as little as 5,000 points per night. So if you were to purchase the maximum 120,000 points for $690, you could redeem 24 Pointbreak nights. That's a cost of $28.75 per night! If it's top-tier Category 5 hotels you're after, you could purchase 50,000 points (resulting in 100,000 with the 100% bonus) at a cost of $575. This would be enough for two nights at a top-tier hotel like the Intercontinental Paris Le Grand at a cost of just $287.50 per night. Considering this hotel regularly publishes rates of $700+ per night, that's an incredible bargain.
You can also stretch your IHG points further by opting for Points + Cash awards as well as booking through the Hotels Anywhere program. Sometimes booking IHG hotels through Hotels Anywhere can be a better value than redeeming a standard award nights. This is especially the case with properties like The Venetian and Palazzo in Las Vegas. These hotels occasionally offer relatively cheap paid rates. When this occurs, the Hotels Anywhere rate is lower than the 45,000 – 50,000 points normally required for an award stay.
Regardless of how you redeem your IHG Rewards Club points, buying them at less than 0.6 cents each is a good deal. I prefer to earn my IHG points through hotel stays paid for with Arrival Miles, since it saves me a ton of Ultimate Rewards points. I can get much more than 0.57 cents worth of value out of my Ultimate Rewards through premium award flights. Thus, buying IHG points makes much more sense than transferring them.
If you do plan on buying IHG points during this promotion, do it by 11:59 PM (ET) on June 30. That way you're sure to receive the 100% bonus.
Subscribe to Blog via Email