I just got an email from American Express that reminded me of the good old days: When American Express would offer 100% off Amex gift card fees and shopping portals would have the codes listed right under a large text highlighting 1 – 4% cash back. Oh, and I would have the premium shipping plan, which meant $0 shipping fees after the $99 was paid. Now shopping portals no longer offer cash back on Amex gift cards, making all of these promotions pointless. Or does it?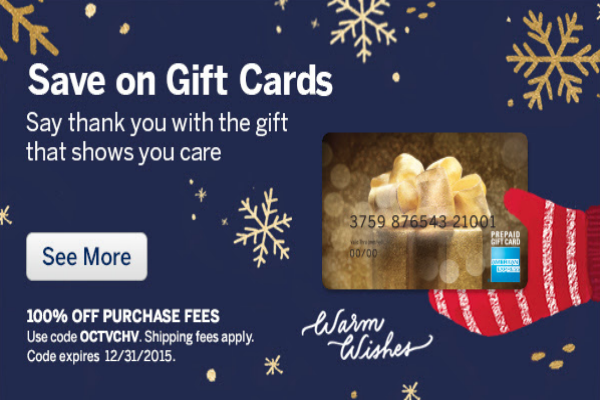 In Why I Use Amex Gift Cards for Manufactured Spending, I explained how buying American Express gift cards was an efficient way to manufacture spend. Banks may decline $2,000+ worth of in-store purchases most of the time. However, that's not the case with American Express gift card purchases. In my experience, bi-weekly $10,000 orders never once set off a security alert. In fact, I've even gone past my limit with Barclays a couple of times while ordering Amex gift cards.
Just this week, I held up the line at Safeway when a $3,000 purchase set off a fraud alert. I got it straightened out by calling customer service and verifying the purchase. However, I didn't use the card again for the rest of the day. Why? Because I didn't want to set off any more alerts and draw more attention to my account.
I say all this to explain that if you still have the premium shipping plan and a $0 fee offer comes around, it might still make sense to buy American Express gift cards online. You can place one large order (up to $10,000 every two weeks) that won't get declined, pay no extra fees and still be able to liquidate your cards via Visa gift card purchases without worrying about your transactions setting off a fraud alert. If you're purchasing Visa gift cards anyway, this won't add any extra costs to your gift card churning strategy. It will just make it easier to get large amounts done without dealing with interruptions from your card issuer.
My premium shipping plan has already expired and I don't want to incur extra fees. But I do miss the convenience of not having to deal with bank security alerts. Seeing 20,000 miles post to my Barclay Arrival Plus account within days of placing my $10,000 Amex gift card order was a nice bonus. If you've already paid for the $99 shipping plan, then you may find these $0 gift card promos to be a convenient option for churning large numbers of gift cards.
Subscribe to Blog via Email